Surely the wait must almost be over? The Apple [AAPL] rumor du jour today reasserts claims the iPhone 5 is on the way with production already reaching 150,000 units per day, Digitimes reports. Apple is aiming to produce/sell a record 22 million iPhones in its fourth quarter.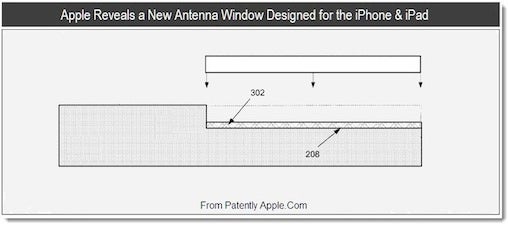 [ABOVE: Patently Apple recently revealed some information hinting at new antenna designs in future iPhones.]
iPhone crazy, iPhone mad
It makes sense: Anticipation of a new model iPhone is reaching fever pitch and with the company widely expected to deliver the new release as soon as October it's inevitable that manufacturing should be beginning about now.
Apple has contracted both Foxconn and Pegatron to build the device. At Foxconn production has begun, generating 150,000 units daily. Pegatron production may not begin until next year, the report claims -- could this suggest a staggered release schedule as Apple brings the device to even more carriers and countries?
Typically, Apple will introduce new model iPhones in the US first, but given the growing importance (and thriving grey market) of China and the evergreen significance of the European markets, Apple's window for a staggered introduction is pretty small if it wants to fully exploit the ever-so-busy Christmas market with its new iPhone(s).
[ABOVE: This iPhone 5 concept video proved pretty popular when it appeared a few months ago.]
Turning on the iPhone ecosystem
Component manufacturers are also moving fast to deliver the parts required for the next-gen, slimmer, faster and more powerful device.
"Lens maker Largan Precision, touch panel maker TPK Holding, reinforced glass supplier G-Tech Optoelectronics and battery vendors Simplo and Dynapack are all operating at full swing currently, the sources indicated," explains Digitimes.
"Shipments of iPhone 5 from the supply chain are expected to reach 5-6 million in September and top over 22 million units in the fourth quarter as suppliers will ship less iPhone 4 and CDMA-version iPhones during the final quarter of the year, noted the sources."
Waiting for the cloud
An earlier report from Macotakara.jp also claimed iPhone production had begun with Foxconn handling 15 percent of capacity. A stockpile of the new devices already exists, that report claimed, with Apple just waiting to install iOS 5 inside these devices.
Recently-leaked Best Buy documents claimed the device is set to launch in the first week of October. A second report from a different source seems to hint an October 21 launch.
The new iPhone is expected to boast an A5 processor which runs significantly faster than the A4 chip presently used. An 8 megapixel camera, much improved video capture and a new tapered design are also being discussed.
It is also thought possible Apple will introduce a cheaper-to-manufacture version of the iPhone 4 to scoop up sales at the low end of the smartphone market. And, of course, there's constant speculation that Apple will introduce a smaller iPhone nano-like product, though this may be a later introduction.
Apple is also expected to upgrade its iPod range, new claims suggest these will include a new 3G-capable iPod touch, turning that device into a capable communications tool.
Despite the imminent debut of the iPhone 5, fourth-generation sales remain strong. A recent report from Canaccord Genuity analyst Mike Walkley claimed it to be the top selling smartphone at both AT&T and Verizon in August, "despite consumer speculation regarding the upcoming iPhone 5 launch," the analyst said. He anticipates the new model will also be made available on Sprint's network.
Please let me know what you think in comments below. Please follow me on Twitter so I can let you know when I post new reports here at Computerworld.