With classic clumsiness and style I dropped my iPhone this morning and smashed its display. This means I'm so in the market for a new Apple [AAPL] smartphone: good news then that iPhone 5 production has begun and it looks likely we'll be getting hold of the new metal-back device starting next month (October).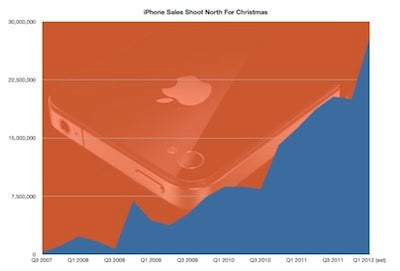 October action
Multiple rumors this weekend seem to support an October release for the faster, slimmer, lighter Apple iPhone. German carrier Deutsche Telecom is even offering iPhone pre-orders to its customers on a voucher system, though won't say when the device will ship, or if it will ship.
Internal Best Buy documents leaked this weekend to the BGR blog claim the device is set to launch in the first week of October. A second report from a different source seems to hint an October 21 launch, however.
You can expect an iPhone on most networks, claims the Wall Street Journal, which tells us small US carrier, Sprint, will also begin offering an iPhone 5 from October.
Production begins
We're now picking up claims that production of the new iPhones has begun. There's been a spate of leaked component images in the past few weeks, now it seems the components are being put together.
Small Mac website, Macotakara claims Foxconn and Pegatron have begun assembling the iPhone 5 in preparation for an early October launch in the US, with an introduction in China scheduled for later that month.
Strangely, the report states that once the iPhones have been made they are not being boxed-up, speculating that this is in order to install iOS 5 when that software is available.
Scheduled for introduction this Fall, iOS 5 preparation has already begun at Apple's chain of retail stores where staff are now being trained in iOS 5 and iCloud. This suggests the the new software and service to be set for imminent introduction -- though we've had no word of any Apple special event for this or for its iPod products as yet -- perhaps we'll see this emerge later this week?
So much activity
Once iOS 5 is installed on those iPhones piled-up in the warehouses beside the Pegatron and Foxconn factories, then we can expect the first units to hit retail a week or so later, suggesting Apple to be on schedule to achieve an early October launch of the phone, with the software released slightly in advance of that.
Also recently it has been confirmed that Apple did use San Francisco police to help it recover its lost iPhone 5 prototype. That effort seemingly failed, but you can read a fairly accurate list describing the most likely improvements in the device right here.
I've been predicting for some time that a move to launch the iPhone 5 in October is going to dramatically increase Christmas iPhone sales at the expense of devices from all other manufacturers. I know I'll be attempting to get hold of one of the new models to replace my broken device -- will you be getting your own iPhone? Let me know in comments below.
Otherwise, please follow me on Twitter so I can let you know when new reports get published here first on Computerworld.