By JR Raphael
With its Firefox 4 desktop browser now burning up the charts, Mozilla's ready to get its feet into the world of mobile.
Mozilla will launch the final version of its Firefox Android browser sometime this week, company representatives tell me. The release candidate of the browser came out last Monday and has been under heavy scrutiny ever since.
"We're just waiting to see if there are any bugs that we haven't found," says Thomas Arend, Mozilla's principal product manager.
[UPDATE: Mozilla launched the program Tuesday morning; it's available now in the Android Market.]
Firefox for Android: Lots of Features, But No Flash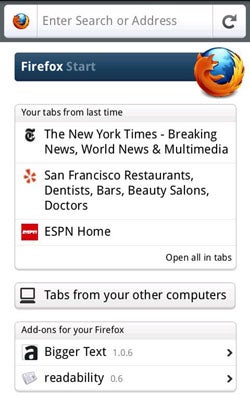 Firefox for Android offers a number of enticing features, such as tabbed browsing and syncing of bookmarks, passwords, and sessions between a mobile device and PC-based Firefox browser. Plus, as you'd expect from Firefox, the app supports a wide range of third-party add-ons that allow you to tack on extra functionality. You can set up custom skinning, for example, or the ability to send tweets right from the browser's address bar. 
One thing that's conspicuously absent from Firefox for Android, however, is support for Adobe Flash content. While Android itself famously allows Flash-based browsing, Firefox -- as of the upcoming inaugural release -- does not.
"For us, HTML5 and the open Web video standards are most important right now," Arend tells me. "Flash is a reality, though -- I'm aware that it's there and it's going to be around for a while -- so we're definitely looking into it and will look into enabling Flash plugins in a future version."
Firefox for Android: Is It Right For You?
You can actually check out the release candidate of Firefox for Android for yourself in the Android Market right now; it's not the full and final version, by any means, but it's pretty darn close. And when the final version is ready, your device will automatically prompt you to upgrade.
[UPDATE: As mentioned above, the final version is now available.]
Two important notes: First, Firefox for Android doesn't officially support the original Motorola Droid. Arend says the phone simply doesn't have enough memory to provide an ideal browsing experience. Droid users can download the app if they want, he says, but shouldn't expect optimum performance.
Second, if you're using a tablet, you'll notice that Mozilla doesn't have a separate tablet version available; Arend says the team's goal is to build a solid user experience for all form factors into a single mobile edition. Using the app on a Motorola Xoom, I can tell you that the browser does scale up to the large-screen form fairly well in general. Some images, however, seem to appear a bit jagged for some reason -- a phenomenon I haven't experienced with any other tablet browsers -- and the app also doesn't take advantage of Honeycomb-specific features that could significantly enhance the user experience.
Instead of having various options buried in a smartphone-style menu, for example, it'd be nice to have them easily accessible in Honeycomb's top-of-display "action bar"; this would much more effectively utilize the tablet's extended screen real estate and improve the tablet browsing experience. The lack of these sort of details makes it feel like you're using a smartphone app on a tablet rather than using a tablet-optimized utility.
According to Arend, Firefox for Android will remain a single device-agnostic application, but the Mozilla team may consider more options for tablet optimization as time moves on. 
"We are looking into all options -- especially if you have a huge tablet, we're looking into user interaction options to optimize the user experience," he says.
Firefox for Android: Final Thoughts
For now, I'd say this: If you use a post-Droid smartphone -- and don't regularly use Flash on your phone -- Firefox for Android is a feature-packed new option well-worth checking out.
If you use a Droid or another relatively low-RAM phone, you're probably better off sticking with either the stock browser or a less memory-intensive alternative like Dolphin Browser or Dolphin Browser Mini.
For tablet owners, Firefox for Android's introduction of add-ons is interesting, but at this point, I'm not sure it's enough to sacrifice the tablet-optimized and Flash-enabled experience the stock Honeycomb browser provides.
JR Raphael writes about smartphones and other tasty technology. You can find him on Facebook, on Twitter, or at eSarcasm, his geek-humor getaway.
Article copyright 2011 JR Raphael. All rights reserved.