By Richi Jennings (@richi ) - August 10, 2011.
[Updated with more reaction from around the Web]
The Anonymous hacker collective has vowed to kill Facebook on account of privacy -- or at least some of them have. On the auspicious date of November 5 -- the day Guy Fawkes tried to destroy Parliament -- Mark Zuckerberg's baby will apparently itself be destroyed by the 4chan-offspring. In IT Blogwatch, bloggers are legion; they do not forgive; they do not forget.
Your humble blogwatcher curated these bloggy bits for your entertainment. Not to mention: Photoshop a London looter...
Sean Ludwig reports:
Anonymous claims...Facebook...is "selling information to government agencies." It also asserts that Facebook's privacy controls are a joke and that users cannot actually delete their accounts.

...

The threat to destroy Facebook comes...after the group successfully...defaced the Syrian Ministry of Defense's website [and earlier] attacks on PayPal, Visa, Amazon, Bank of America, and various...governments.   
   James Johnson breaks out the popcorn:
Posted in a YouTube video the group...[is] claiming they are doing it for "Your own privacy. ... Facebook has been...giving clandestine access to...firms so that they can spy on people from all around the world. ... One day you will look back on this and realize what we have done here is right."

...

Facebook programmers vs. Anonymous hackers? This could easily turn into a pay per view event that could rival top UFC fights.   
  Nick Farrell takes a shower:
Anonymous...said that the medium of communication the great unwashed so dearly adore will be destroyed. "[P]rotect the freedom of information...join the cause and kill Facebook for the sake of your own privacy," [it] said.

...

It dubbed Facebook the opposite of the Antisec cause. ... "One day you will...thank the rulers of the internet, we are not harming you but saving you," the outfit promised.   
But are they planning more than just a DDoS? Jennifer Bergen thinks geek:
Since Facebook is such a huge site...it would take a lot for Anonymous to slow down Facebook's servers. Anonymous tried to take down Amazon...earlier this year, but [it] was too much for the group.   
Stop the world; Paul Ducklin wants to get off:
[It's] not exactly Facebook's fault. ... Facebook only "knows" what you choose to tell it. If you want to tell [it] more than you tell your parents, or your spouse...then that should be your choice...your right. ... [To] kill it off entirely to suit your own agenda is arrogant self-righteouness at best.

...

What we are offered here is the concept of an internet regulated...by a group which is apparently proudly named after a horde of pyschotic demons [Legion]...which has adopted the terminology of murder.

...

Of course, in the Legion story...the psychotic demons quickly end up drowned in the Sea of Galilee by their own uncontrolled and unfocused rage. ...[Y]ou'd struggle to interpret Jesus as the embodiment of Roman oppression and Legion as freedom fighters.   
  Hang on a minute, something smells funny to John Leyden:
[It] was posted on a newly created YouTube channel, FacebookOp. ... The call to arms has not been repeated...on any of the Twitter accounts or websites usually used by Anonymous. And there are other reasons to be sceptical.

...

[It] seems to have gone largely ignored [for three weeks] generating scores of stories during the quietest phase of the annual news cycle..   
  And "something seems fishy" to Eric Mack, too:
[T]he production value overall is far lower than others from the group...[yet it] has loftier goals than the typical Anonymous operation. ... Anonymous' campaigns...have [never] attempted to fully destroy a site, at least none that have been reported.

...

Nonetheless, while the total annihilation of Facebook may be a far-fetched...fantasy, accessing...its immense database of personal user information could be a more realistic hacker's holy grail.   
And Finally...
photoshoplooter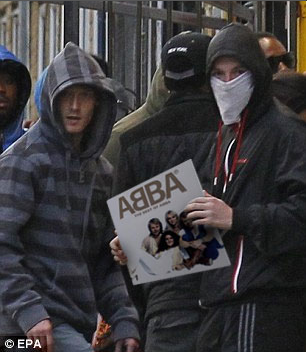 [Click image for more hilarity: possibly not work-safe;
hat tip: Thom Vincent]
           
Don't miss out on IT Blogwatch:


Richi Jennings is an independent analyst/consultant, specializing in blogging, email, and security. He's the creator and main author of Computerworld's IT Blogwatch -- for which he has won American Society of Business Publication Editors and Jesse H. Neal awards on behalf of Computerworld. He also writes The Long View for IDG Enterprise. A cross-functional IT geek since 1985, you can follow him as @richi on Twitter, pretend to be richij's friend on Facebook, or just use good old email: itbw@richij.com. You can also read Richi's full profile and disclosure of his industry affiliations.