Apple [AAPL] has begun moving to make software sales a Mac App Store only thing, with news that it intends ditching some of the best available Mac games from its brick-&-mortar Apple retail stores.
LoopInsight this afternoon tells us Apple will cut some games and hardware from its shops in order to create space for new personalized new Mac set-up and advice services. Apple's customers visiting a retail store to purchase software will be advised to go and get it from the Mac App Store.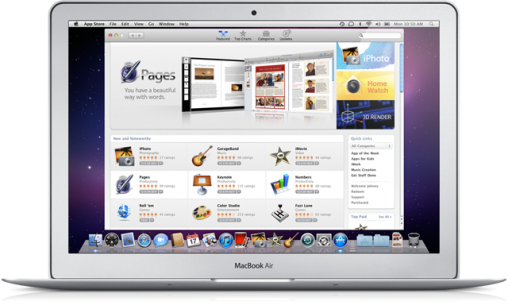 Introduced with the Lion preview last October, this isn't the first attempt to stimulate the Mac market to shop at Apple's new attempt to create an Internet-based software shopping environment. Apple now only sells MobileMe subscriptions via the Mac App Store. Now, while these are expected to be made available for free at some point, clearly the company is beginning to experiment with ways to ensure the Mac App Store is the de facto first choice for software sales.
That's what I call pester power
[This story is from Computerworld's Apple Holic blog. Follow on Twitter or subscribe via RSS to make sure you don't miss a beat.]
Apple now has over 300 retail stores, including several in China which have already become the company's most-visited and most profitable shops. But it isn't just about actual sales, it is also about boosting visibility for the company's onlne software offering.
-- Apple retail is a big, big deal for product visibility. Speaking during the company's most recent quarterly results call, CFO Peter Oppenheimer revealed, "We hosted a record 75.7 million visitors in our stores," during the company's December quarter.
We've already seen some great successes with Apple's online software sales model -- and I don't mean the phenomenal achievement of shifting over 10 billion Apps via iTunes so far. (Those Apps are software too), nor the million Mac Apps downloaded on day one of the Mac App Store.
Pixelmator, made $1 million in just 20-days via Apple's new store. "Such an amazing success feels fantastic," wrote company co-founder, Aidas Dailide. I'm certain it does.
Apple knows that as it moves forward it can expect to sell millions of Macs each year. It sold 4.13 million Macs in its just-gone quarter.
Apple's software retail land-grab
With all newly-sold Macs now automatically populated by access to the Mac App Store by default, as it is included within the OS, Apple is building a market for Mac software sales at a rate of millions of new customers per year, plus those it is already converting from among its existing user base.
While many of these won't yet go for online software sales, many will, and given the relative novelty of this form of software distribution -- at least at this level of reach -- Apple is set to see huge numbers of Mac Apps purchased and downloaded in this way. Indeed, if we assume every new Mac user spent just one dollar at the store to test it out this still equates to $4.13 million per quarter, 30 percent of which Apple retains.
We already know the store's doing better business than this. Apple saw over one million Mac App Store downloads on its first day. Introducing the store, Apple CEO Steve Jobs said the company didn't see the Mac App Store as being the "only way" to purchase software for the platform, but predicted "it will be the best".
Consumers are bound to flock to the service. Ken Case of the Omni Group told The Register, "I think the Mac App Store ... solves a need that a lot of consumers have had, which is 'How do I find software for the Mac? Where do I go to buy it? How do I know if it's any good? Can I trust the vendor that I'm working with?'"
Convenience...or control?
With the move to direct millions of Apple retail store visitors toward its online software stall, the company is making a huge effort to ensure that when it comes to software sales, we choose the online version first.
This is great in terms of convenience, but given that Apple exercises iron control over what is made available via the store, could this suggest another major move to make a stand in order to control all Mac software distribution, as some commentators fear?
Another concern must surely be the death of the trial version. Apple won't allow developers to distribute these -- they can make them available on their Website, but I'm not convinced consumers will bother to follow the link.
Apple's censorious nature should also be considered - it already bans software that contains a variety of thought crimes, including "excessive consumption of alcohol" or "present excessively objectionable or crude content". As if the company has the right to decide what standards of decency the rest of the world should follow.
The recently-introduced Mac OS X Lion Developer preview showed us, Apple is already experimenting with ways to ensure that installs must be tied to a Mac App Store account and download. Surely it is only a question of time until software distribution online outside of the store or via an optical disk will become the exception, rather than the norm?
One thing is for sure, Apple has come a long, long way since two of its founders -- Steve Jobs and Steve Wozniak -- were illegally hacking their way into the US telephone system with their home-made Blue Box devices under the tender tutelage of the legendary John Draper.
Over to you: Do you see this as convenience, or control? Please let me know in comments below, and I'd be most pleased if you chose to follow me on Twitter so I could let you know as new reports get published here first on Computerworld.