By JR Raphael (@jr_raphael)
Paging Dick Tracy: The Android-powered "smart watch" may be coming soon to a store near you.
Oh yeah -- and it can function as a belt clip, too.
Have you heard about this thing? A company called WIMM Labs has just announced a new "wearable platform" based on Google's mobile operating system. The concept is to put smartphone-like functionality into a tiny screen that works in a variety of portable, wearable gadgets. In addition to watches and belts, WIMM envisions its technology being embedded into pendants, wallets, remote controls, and even bicycle handlebars.
IMAGE GALLERY: Wearable Android concept devices
WIMM's wearable tech isn't just straight Android, though. In what could be a distinguishing factor from past attempts at this sort of product, WIMM's gizmos will run on a custom platform with its own set of specialized "micro apps." WIMM is putting together its own software development kit and wearable tech app store; it's already working with a small group of developers and hopes to have more on-board within the next couple of months.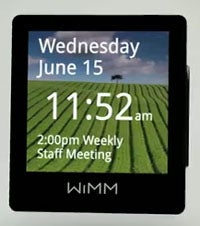 All WIMM devices will include a core set of WIMM apps. Some of them will interact with your phone, like a caller ID display, SMS preview, and lost phone warning; others will offer more basic standalone functions like a calendar viewer, weather center, and world clock. Add-on apps could then target specific interest areas such as fitness, media interaction, and so on.
Some noteworthy specs and features of WIMM's new wearable Android technology:
1.4-inch touchscreen display that activates upon touch
Wi-Fi and Bluetooth support
Accelerometer and magnetometer for motion tracking
Audible and tactile alerts
Up to 32GB memory
Water-resistant hardware
Web and smartphone interfaces (Android, BlackBerry, and iOS) for remote device management
Also interesting: WIMM's efforts are being funded by Foxconn -- you know, that company that makes all those various iThingamajigs.


WIMM doesn't expect to sell its devices directly to consumers; rather, it's working with manufacturers and developers who will build and sell their own custom WIMM-based creations. The company says it hopes to have its first WIMM device on the market by the end of the year.
Want a closer look at some of the wearable Android tech that could come our way? Check out the image gallery for a glimpse at some of WIMM's concept devices, and watch the video below to see the platform in action. 
JR Raphael writes about smartphones and other tasty technology. You can find him on Facebook, Twitter, or Google+.
Article copyright 2011 JR Raphael. All rights reserved.