Apple [AAPL] now sells as many Macs in a quarter as it once sold in a year, is the world's biggest smartphone maker and dominates the nascent tablet industry in the absence of anything like credible competition. The iPod nano was an early catalyst for some of this growth, a circumstantial slice of evidence which reinforces expectation of a future iPhone nano, one day.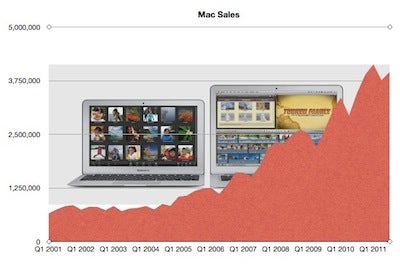 [ABOVE: Apple's explosive Mac sales.]
Apple has the 'i' factor
Take a look at the graph above. It shows the company's quarterly Mac sales since the turn of the Century. The graph speaks for itself, underlining the big change that happened in Apple's fortunes starting in around 2005. Look at the relative flatness in the graph in the years before 2005, then the bounce,
[This story is from Computerworld's Apple Holic blog. Follow on Twitter or subscribe via RSS to make sure you don't miss a beat.]
What happened in that financial year?
The company was seeing major success with its iPod range. The iPod mini was incredibly popular. In fact, while 2005 was the best year yet for iPod sales, the first quarter of the subsequent year was amazing. And that was the moment the iPod nano appeared, a classic, 'what would Steve do?' moment.
Apple sold 22,497,000 iPods (which included the best-selling iPod mini) in 2005. That was impressive, then it sold an astonishing 14,043,000 iPods in the first quarter of its 2006 financial year. Remember how Apple's years work -- the first quarter in its calendar includes the Christmas season (September - December). And in 2005, that first quarter saw the firm put the iPod nano up for sale.
[ABOVE: Look at the massive growth in iPod sales with the release of the low cost iPod mini (2004) and the subsequent iPod nano.]
Widening the market
The iPod nano was Apple's first full weight flash memory-based music player. People loved the things and the company sold a million in 17-days. People loved its portability.
The market already had the heart for iPod, but iPod nano bought the devices to a wider market, and propelled Apple to set new sales records. Bear in mind that the iPod nano replaced the popular iPod mini, itself only introduced in early 2003, relatively soon after the introduction of the original iPod in 2001.
There's been lots of talk about the iPod halo. Once you put iPod sales up beside Mac sales you can see that halo take effect.
Sure, it starts slowly, but as the years click by and the iPod market grows, you can clearly see a commensurate increase in Mac unit shipments. By the beginning of 2007, Apple's Mac shipments had more than doubled on 2001, while its iPod sales were an incredible 21 million. And that's when Apple cannibalized its own media player with the introduction of the iPhone.
There's plenty of writings on iPhone growth. Now the world's biggest selling smartphone handset and facing stiff competition from imitative ex-manufacturing buddy, Samsung, iPhone sales are booming, now at the expense of iPod sales.
[ABOVE: To my mind, those iPhone (yellow) and iPad (red) sales figures seem to reflect early growth -- there's still upside.]
Become value conscious
All these are boosting Mac sales, which are themselves now seeing a little cannibalization by the industry-defining iPad.
But the story here isn't just growth. The story here is about how Apple has historically succeeded by widening its addressable markets at a time of its own choosing -- before competitors or the media reckon it should. Sometimes the company surprises us  by deleting a popular product (such as the iBook or the iPod mini) in favor of a new system.
Android devices are doing well at the moment. Every time someone I know ends up with one, I ask them why. I have to ask them this as every person who does purchase one knows I write about Apple and likes to mention it. They always tell me they chose an Android device because: "It's cheaper than an iPhone." By cheap they mean the initial cost is lower, and the contract terms on offer are slightly better.
Break your preconceptions
Historically, Apple hasn't focused on being the low cost option. Traditionally it focuses on making the best products it can in hope audiences appreciate them. This isn't a hard and fast rule. The iPad is a product which is defining an industry, but which competitors cannot match on price. This shows that Apple can and will compete on price when it thinks it can continue to deliver  best-in-class product at a low price point.
Now imagine what an iPhone nano type device could do for Apple's iPhone sales, and how this might impact Apple's shipments in other areas.
Look to 2005/6 and you see Mac shipments break the million mark in Q1 2005 to exceed 1.5 million by the end of 2006. That's as iPod sales grew enormously. What this means is that conversations on how any low cost iPhone moves could widen iPhone sales are only part of the discussion. Also important is how such a strategy could act to once again galvanize Mac sales.
I'm not blind to the argument that Apple may not yet require to make this move. After all, recent PriceGrabber research tells us 35 percent of consumers plan to get themselves an iPhone 5 when that device ships.
However, with smartphone sales set to exceed a billion units by 2016, the company will certainly work to grab as huge a slice of that market as possible. On iPad, iPhone and Mac sales, we really ain't seen nothing yet. Particularly when you consider the impact of Apple's moves to monetize the Chinese market, while creating a template for emerging markets you can next expect to see applied in India, where Apple hasn't yet opened retail stores.
Let me know your thoughts on this in comments below and if you'd like please follow me on Twitter so I can let you know when I post new reports here first on Computerworld. (And I'll sometimes tip you off with breaking Apple news, too).