Article copyright 2011 JR Raphael. All rights reserved.
In the world of Android, evolution moves at a breakneck pace. There are new phones launching every month and new Android upgrades always on the horizon. When you've had the same handset for a year or two, it's easy to start feeling like you're stuck in a rut.
The good news: You don't have to stick with the same ol' routine. A few fresh apps can go a long way in breathing new life into your phone. And hey, we're at the start of a new year -- so what better time to expand your Android experience?
Here are five new Android apps worth checking out.
Android App #1: ADWLauncher EX

Released just before the start of 2011, ADWLauncher EX replaces your phone's stock launcher and lets you control the way your home screens look and work. You can choose how many panels you have, customize your app icons, create a series of dock bars for easy access to your favorite programs -- and that's just the start.
As the premium version of the popular ADWLauncher utility, ADWLauncher EX adds a number of new features, including desktop transitions, app drawer customizations, and the ability to edit and reconfigure your phone's main settings menu. And, most important, its performance is spectacular; if your home screens are slow-loading or laggy right now, there's a good chance ADW will give you an immediate and noticeable improvement.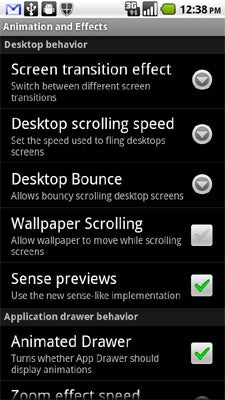 ADWLauncher EX runs about three bucks in the Android Market.
Android App #2: ChromeMarks

ChromeMarks hit the Android community late last year and, thanks to its regular updates, has turned into one of the platform's newest must-have applications.
ChromeMarks syncs your Chrome browser bookmarks with your phone, allowing you to access your saved sites on-the-go. The syncing process is instantaneous and continuous, so if you change something on your PC's browser, it shows up in the ChromeMarks app right away. The syncing works both ways, too: You can organize and update your phone's default browser bookmarks from your PC, and the changes will appear immediately.
ChromeMarks uses Google's built-in Chrome syncing system, so no addition software is required on the PC side. The app costs about two dollars.
Android App #3: CircleLauncher

CircleLauncher just showed up a week ago and is already garnering plenty of attention among Android enthusiasts. Despite what its name implies, the app isn't actually a full-fledged launcher replacement, like ADW, but rather a widget that gives you a unique way to organize your apps.
Each CircleLauncher widget holds up to nine apps and/or contacts and appears as a 1-by-1 icon on your home screen. When you tap the icon, the stored apps pop up in a circle (or semicircle, depending on the widget's placement). You can scroll through the apps with your finger and tap any one of them to open it. It's kind of like a graphically advanced folder, with a really cool interface.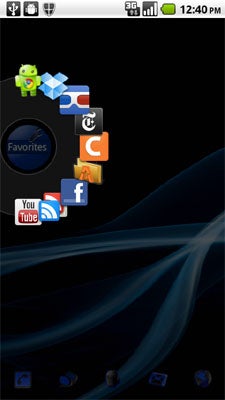 CircleLauncher comes with plenty of options for customization, including custom icons and alternate configurations for how the apps appear. There's a free "light" version available with the basics; the full-featured version runs just over a dollar.
Android App #4: Dolphin Browser Mini

I've long been a fan of the various Dolphin Browser apps for Android, and it didn't take long for the latest edition to become my go-to program for mobile Web browsing.
Dolphin Browser Mini is a scaled-down, simplified version of the regular Dolphin Browser application. Most of the features that make Dolphin great are still present, including gesture-based bookmarks and support for tabbed browsing, but with the extraneous fat trimmed off, the program runs noticeably faster than its predecessors. It also has a new "speed dial" feature that acts as the default blank tab page, giving you handy at-launch access to your favorite bookmarks.
Dolphin Browser Mini is a free download in the Android Market.
Android App #5: JuiceDefender

Need better Android battery life? JuiceDefender may be just the thing for you. We've talked about JuiceDefender before, but a major upgrade rolled out this week transforms the app into a new and vastly improved utility.
The new JuiceDefender replaces the complicated menus and seemingly endless setup of yesterday with a slick and easy-to-manage new interface. You can pick from a series of preprogrammed profiles to optimize your phone's power consumption or opt to customize JuiceDefender's actions by flipping through a few intuitively designed tabs.
The basic JuiceDefender app is free. An optional add-on called UltimateJuice, available for about five bucks, packs even more functionality into the program.
Come across any other noteworthy new Android apps lately? Add 'em on to the list -- just leave your recommendations in the comments section below.
JR Raphael writes about smartphones and other tasty technology. You can find him on Facebook, on Twitter, or at eSarcasm, his geek-humor getaway.
Article copyright 2011 JR Raphael. All rights reserved.