"We all have our time machines, don't we? Those that take us back are memories. And those that carry us forward, are dreams." HG Wells, The Time Machine
The Internet. Cloud-based computing. The PC. The Apple [AAPL] mobile vision. iPads and iPhones. These technologies are transforming relationships at a rapid rate. Sometimes it's nice to slip into something historical and evocative, so here's some solutions to steampunk your Apple kit.
[ABOVE: A 1991 Mac meets an 1897 Standard Model 7 Remington Typewriter -- and it works.]
In case you don't know about it, steampunk is a trend. Writers, musicians, sculptors and other creative types are loosely associating themselves with the steampunk notion of pseudo-Victorian mechanical sci-fi creations.
The results? An interesting combination of the modern and the antique inside a host or products, clothing and other objects where the spark of the individual shines in retro-Victorian style.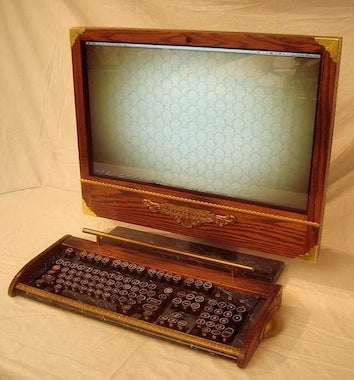 Old Time Computer iMac
First I came across the Old Time Computer iMac covers.
This transforms your Apple desktop into an object that doesn't just look like it came from another world with better designers, but another world entirely, via some wormhole in the space-time continuum. The oak frame, incredibly retro keyboard and brass mouse make this an eye-catching conversation piece -- there's lots more images here.
This is iPhone calling
Complementing the theme I do like the look of this iPhone dock, the iRetrofone. It's an old-style telephone with a slot to hold and recharge your iPhone. When you dial a number on your iPhone you can speak into the handset. For best results, why not install the Rotary Dialer app on your handset? A classic wood and brass iPad docking station is also available.
Whatever happened to USB hub design? Why are those things so plastic and utilitarian? They don't need to be: this handcrafted four-port USB hub and hard drive combination looks more interesting and also offers slots for your pens and unusual novelty items.
That's your desk set-up, but perhaps you want to maintain your faux-Victorian elegance when you wander about the modern world?
Steampunksters, rejoice: Etsy is full of things like these. Take a look at the iCog Dione iPhone holder. Completely hand-made carved wood with brass, copper inlays and a spring-loaded door. The bad side? The case itself weighs 6.2 ounces. A slightly lighter and quite attractive alternative is this Nylon-printed Victorian filigree case.
[ABOVE: Perhaps you need an iPad typewriter?]
The hardcore enthusiast might take a look at this, the Omnithaumic Electro-Panopticon. This seemingly tranforms your Apple handset into a steam powered conduit to the sum of human knowledge (the Internet). Though I'm not convinced it's anything like as elegant -- or portable -- as Jony Ive's design.
If steampunk's not your thing, then look around -- there's a host of uniquely creative hand-made peripherals to put a little individuality around your Apple kit.
Have a happy Independence Day weekend.
Follow me on Twitter and I'll let you know when new reports get published here first on Computerworld.