The Apple [AAPL] iPhone 5 seems on schedule to launch in September, equipped with an A5 processor and -- potentially -- a reinvented case design. And there's even an outside chance those iPhone nano and Apple TV rumors could come true, at least, that's according to a Bloomberg report.
[ABOVE: Here's what happened at O2 on Oxford Street when the first-ever iPhone went on sale in the UK. (O2 PR shot)]
Faster, smaller, cooler
The report claims iPhone 5 is scheduled to show itself in September, just in time for the introduction of iOS 5. As described, the device matches up nicely with all the previous claims as to its specifics: an 8-megapixel camera alongside the A5 processor, which as we know from iPad 2 product marketing runs "twice as fast" as the A4 chip used inside iPhone 4 and iPad 1.
[This story is from Computerworld's Apple Holic blog. Follow on Twitter or subscribe via RSS to make sure you don't miss a beat.]
A second report claims the smartphone will boast a redesigned case and that it will be available in August. That August launch makes no sense, of course, unless Apple plans to unveil the device in August in order to launch it in conjunction with iOS 5 in September. Previously, it has been predicted the next-gen device will boast a teardrop-style tapered case design.
The Bloomberg report also claims Apple will introduce a cheaper iPhone nano model, designed to widen the company's addressable market and to take a chunk from Android sales. This will use A4 processors and offer iPhone 4-class displays, the report claims.
[ABOVE: If you missed it, that WWDC 2011 keynote, in full.]
iPad 3 too?
There's more: "Apple is also testing a new version of the iPad that has a higher resolution screen, similar to the one now used in the iPhone 4," the report claims, citing sources. Screen resolution is to be one-third higher than the existing iPad it claims, suggesting more moves to the iPad HD.
A report last week also claimed Apple will launch the iPad 3 in the fourth quarter with "image resolution 5-6 times higher than iPad 2."
Those popular Apple TV -- by which I mean an Apple-designed, iOS-running television set -- also ride again this week, following a Daily Tech report citing a loose-lipped "former Apple executive".
iTelevision?
"Apple plans to "blow Netflix and all those other guys away" by bundling Apple TV + iTunes inside physical television sets," the report claims, with its source even going so far as to claim Apple has hired Samsung to manufacture these new sets -- and they will be introduced in fall.
If that sounds unlikely, given the state of business between Apple and Samsung, the report states the executive source saying: "If you have to be competing with somebody, you want to be competing with yourself."
Do I believe these reports?
I can easily accept it's time to launch a new iPhone; I have little problem imagining Apple is preparing to widen its market with an iPhone nano (though I suspect it will not be called iPhone nano).
I don't think that an Apple television is in the frame for a fall launch -- this makes much more sense for next year around WWDC, and I'm also slightly unconvinced that Apple plans an iPad 3 so soon after version 2. However, Apple-watching is not an exact science, and we'll know the answers in a few weeks.
Accelerating disruptive change
The smartphone industry is exploding, with Apple's iPhone leading the charge. Sure, Android devices may be outselling the iPhone, but iPhone users actually use their phones.
That's an allegation that's confirmed by the latest Mobile Media Metrics report, which claims Apple's iOS accounted for 65 percent of connected application users in the UK in April.
Android took just 31 percent -- to my mind this reflects that not every Android device is the equal to an iPhone. 27.6 percent of smartphone users were on iPhone in April with 24.7 percent using Android, the report explains.
Inclusion within the iOS ecosystem is a big deal, and great business. Driven by Apple's sales iPhone/iPad chip supplier, Imagination Technologies, saw sales double in the year to 30 April 2011, turning over £1 billion (c.$1.6 billion) in the year to 30 April 2011.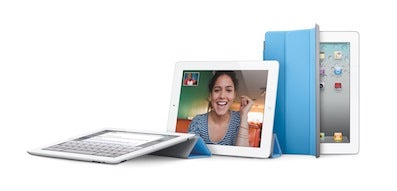 iPhone 5 feature set is:
Of course, what we don't know about the iPhone 5 is what its feature-set will include: will it include NFC support? Will it carry a higher-res screen?
-- We can be reasonably certain it will be twice as fast with nine times the graphic performance as it seems set to use the A5 procssor. A 64GB model should be available, as will an improved LED flash unit for the camera.
-- Replacement of the mechanical Home button with a capacitive controller should enable Apple to equip the iPhone 5 with a bigger 3.7-inch (or, perhaps, 4-inch) display. If this were to happen it would mean the front face could be made entirely of tough glass.
-- It also seems possible the combined GSM/CDMA worldphone may offer advanced intelligence and augmented reality support using Siri technology acquired in 2010 and (potentially) voice solutions licensed from Nuance. Use of both in tandem offers interesting possibilities for deeply integrated artificial intelligence and voice controls in future iPhones.
-- It will also be interesting to find out if this will be an LTE phone (recent months have seen a flurry of conflicting rumors on this), and, of course, the really big question: will Apple deliver Smart Covers for the iPhone 5?
What are your thoughts? Will we see an iPhone 5 in September? Is Apple really likely to deliver an 'iPhone nano'? Does it make sense to introduce an iPad 3 so soon after version 2, and what about that Apple television story, can that really be true? Please say your piece in comments below. Otherwise, please follow me on Twitter so I can let you know when new reports get published here first on Computerworld.