Apple [AAPL] fans are dusting off their credit cards on news that two of the company's most popular products are due an upgrade. China Mobile this morning seemingly confirmed the iPhone hits its network in September, while reports from the Apple supply chain claim new model MacBook Airs should hit channel as soon as next month.
[ABOVE: Many readers got pretty vocal to complain about Final Cut Pro X in comments to my report earlier this week. There's no smoke without fire -- the debacle's now grown big enough to become a punchline on the Conan O'Brien show.] 
 MacBook Air for Sandy Bridge
A new model MacBook Air had been expected to enter production in May, equipped with Intel's new Sandy Bridge processor. New Mac production was then reportedly delayed pending Apple's release of its all new Lion OS, which also ships next month.
With the new OS imminent, production of the new model MacBook Airs has reportedly restarted, with component suppliers expecting sales of the lightweight all-in-one notebook to be up to two times as brisk as ever before.
"Makers in the upstream supply chain for Apple notebook products will run in full gear starting July preparing needed parts and components for the vendor's new MacBook Air models, according to sources in the supply chain," reports Digitimes.
(Bear in mind the report claims Apple will take delivery of 8 million MacBooks in Q3, which sounds unlikely to me.)
Projected shipments of MacBook notebooks for the whole of 2011 have been raised to 15 million units, compared to 13 million forecast previously, the report adds.
Speaking during Apple's Q2 2011 financial call, Apple CFO Peter Oppenheimer explained Mac sales growth in the quarter has been fueled by MacBook Air. "The growth in Mac sales was fueled primarily by the continued great popularity of MacBook Air, which was updated in the December quarter, as well as very strong sales of MacBook Pro," he said.
The new ultra-light notebooks seem set to be even thinner than before, with the inclusion of the Intel/Apple Thunderbolt I/O platform. Both 11.6-inch and 13.3-inch MacBook Air upgrades are planned, Digitimes previously reported.
First Thunderbolt tests
Inclusion of support for Thunderbolt I/O on these machines will be transformative. The standard hasn't yet reached prime time -- you can't even purchase Thunderbolt cables easily just yet -- but performance on pre-production tests of third party devices is astonishing.
[This story is from Computerworld's Apple Holic blog. Follow on Twitter or subscribe via RSS to make sure you don't miss a beat.]
In a world exclusive report, Digital Arts reports the interconnect: "Delivered an average read speed of 835.5MBps and an average write speed of 353.1MBps -- faster than many fiber channel systems and equivalent to quite a few streams of uncompressed HD respectively."
iPhone hits China Mobile, AAPL earnings explode 
Apple COO Tim Cook was reportedly in China this week (along with some other key execs from the iPhone and mobile teams), reportedly to seal an iPhone deal with the world's biggest mobile carrier, China Mobile.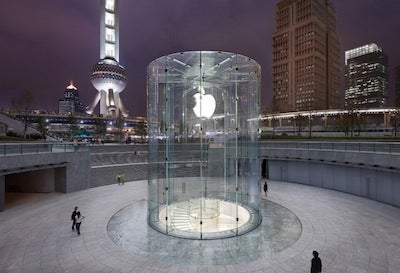 The deal went through and the new device will ship in September, the Shanghai News (via Reuters) claimed, quoting Liu Yang, the firm's marketing official,
"A new iPhone with China Mobile's network will debut and the cooperation will be announced in September," Yang wrote on his micro-blog. However, Apple and China Mobile now seem to be in damage control mode, refusing to confirm or deny these claims.
As previously reported, the combined GSM/CDMA worldphone iPhone 5 seems set to be twice as fast as the current generation, equipped with an A5 processor, 8-megapixel camera, a much-improved flash function, and an improved display.
Screen size may be larger with the loss of the physical Home button and a 64GB model might appear (though given Apple's new iCloud service it is arguable that local capacity will become less important on devices.)
Making the new phone available via the world's biggest mobile carrier is likely to help Apple set new financial results records as the impact of its place at the heart of the growing tech market in China sees that territory become its biggest global market.
What do you think? Will you be getting an iPhone when it appears? Are you standing in line for a MacBook Air? Do you think Final Cut Pro X sucks? Let us know in comments below. Otherwise, please follow me on Twitter so I can let you know when new reports get published here first on Computerworld.