Article copyright 2011 JR Raphael. All rights reserved.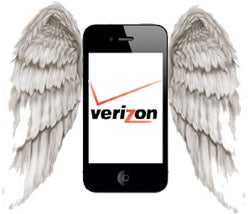 Well, kiddos, it's finally happened: After three years, countless tears, and approximately 4,792 rumored release dates, the Verizon iPhone is actually here. The world, suffice it to say, will never be the same.
So now that Big Red's got little "i," what's a shopper to do -- buy Apple's prized product, or go with one of the many Android phones on Verizon's virtual shelves? It can be a daunting decision, no doubt, but don't you worry your pretty head; we've got you covered.
This magical and revolutionary 13-question quiz will assess your technological style and, using the most advanced scientific methods available, let you know whether the Verizon iPhone or a Verizon Android phone is the better fit for you. Carefully answer each question and keep track of your running score, and within a matter of minutes, all will be revealed.
The Verizon iPhone / Android Phone Quiz
Customizing a smartphone...

a) is something every user should be allowed to do [-10]

b) is totally overrated [+10]

c) That means changing the wallpaper, right? It was revolutionary when my last phone started letting me do that! [+20]

A gadget should be...

a) Functional [-10]

b) Beautiful [+10]

c) Magical [+50]

d) B and C [+100]

e) B, C, and D [+100.5]

f) B, C, and E, but not D [+100.6]

g) What was the question again? [0]

Apple products...

a) are sometimes good, but often overrated [-10]

b) are always the best, because they're Apple products [+10]

c) Dude, they aren't products. They're privileges. [+150]

Is your name John Gruber or MG Siegler?

a) Yes [+500]

b) No [0]

c) Only when I play dress-up on Saturday nights [+75]

Pornography is...

a) bad, mmkay? [+5]

b) something a committee of elders should keep away from me [+25]

c) the reason computers were invented [-5]

A smartphone's home screen...

a) should be neatly aligned rows of static icons. Period. [+10]

b) should be whatever you want it to be [-10]

c) Home screen? What home screen? I want tiles and hubs! [0]

When I buy a new electronic device...

a) I like being able to pick from a wide variety of choices [-25]

b) I like having only one option, because whoever made it knows what's best [+25]

c) I told you: TILES AND HUBS. [0]

An app store...

a) should give me the choice to get whatever kind of program I want [-10]

b) should be a pure and moral place, free from dangerous things like political satire [+10]

c) It's spelled Gap store, nimrod. [0]

Widgets are...

a) cool ways to put functioning programs at my fingertips [-30]

b) unelegant and unnecessary [+10]

c) Excuse me, but the preferred term is "little people." [0]

Flash...

a) has no place on any device of mine [+40]

b) is part of the Web, and I'd like to be able to use it when I

need to [-40]

c) is a superhero you don't want to mess with -- capisce? [0]
All those new Android devices announced at CES...

a) are exciting; I can't wait to check 'em out [-50]

b) are crap compared to my iPhone 3G [+70]

c) Apple doesn't go to CES, so I don't pay any attention to it [+100]

My age is...

a) Zero to 13 years [+10]

b) 14 to 79 years [-10]

c) 80 and up [+10]

d) Both A and C [seek counseling]

When reading this quiz, I...
a) Smirked, chuckled, chortled, or guffawed [0]
b) Got angry -- how dare this spikey-haired stooge poke fun at a provider of magical experiences? [+10]
c) No need to ask; I'm about to leave an enraged and derogatory comment [+50]
d) I didn't read this quiz [0]
The Scoring Guide
-50 to -199: Android's probably more your style. You may not be a full-fledged fan just yet, but you're headed in that direction.
 -49 to +49: You're neutral. Go buy a Windows Phone 7. It's okay -- we won't tell anyone.
+49 to +300: Apple is for you. Keep up at this pace, and it won't be long before you start using flowery adjectives to describe electronics.
+301 to +551: You're 100% iPhone. Buy a Verizon iPhone. Heck, buy two of 'em. Consider getting a tattoo of Steve Jobs on your keister while you're at it.
+552 and higher: You're a supreme Apple worshipper. Next time you see Steve, be sure to tell him we said hello.
JR Raphael writes about smartphones and other tasty technology. You can find him on Facebook, on Twitter, or at eSarcasm, his geek-humor getaway.


Article copyright 2011 JR Raphael. All rights reserved.