Samsung may regret letting its mobile unit take on Apple [AAPL] in the courts. The Cupertino spaceship company isn't just Samsung's largest customer, but also the world's largest buyer of semiconductors. In other words, an Apple supply contract can make or break a manufacturer's business. Oh, and Verizon's iPhone customers won't be accessing the iCloud any time soon.
[ABOVE: One of the reasons people want an iPad: Wireless AirPlay. Take your iPad, your Apple TV and your television -- and you just saved yourself the cost of a console system. Thanks to IGM.]
Up 79.6 percent
Apple bought $17.5 billion worth of semiconductors -- more than anyone else -- in 2010, according to IHS iSuppli. What makes this really impressive is that figure is up 79.6 percent from $9.7 billion in 2009.
[This story is from Computerworld's Apple Holic blog. Follow on Twitter or subscribe via RSS to make sure you don't miss a beat.]
"Apple's surge to leadership in semiconductor spending in 2010 was driven by the overwhelming success of its wireless products, namely the iPhone and the iPad," said analyst Wenlie Ye in a press release. "These products consume enormous quantities of NAND flash memory, which is also found in the Apple iPod. Because of this, Apple in 2010 was the world's No. 1 purchaser of NAND flash."
Apple now buys more chips than HP. It is interesting to reflect on Apple's move to lead the industry on yet another metric that it intends planting its own spaceship on the old HP campus.
This is the iPad age
This is rapid growth: Apple was the third-largest semiconductor purchaser in 2009 and placed sixth in 2008.
"Apple is more a wireless devices maker than a computer maker. The company spent approximately 61 percent of its semiconductor budget in 2010 on wireless products such as iPhones and iPads. In contrast, 82 percent of Hewlett-Packard's 2010 semiconductor spending was dedicated to computer products like desktops, notebooks and servers," iSuppli explains.
This resurgence underlines the changing industry. Just as IDC did yesterday, today research firm Gartner lowered its predictions for PC market growth this year. That's for lots of reasons -- the iPad-delivered death of the netbook and a move among PC buyers to, well, to not buy PCs but to pick a tablet instead. And let's be crystal clear here -- they're picking-up Apple tablets.
"Mini-notebook shipments have noticeably contracted over the last several quarters, and this has substantially reduced overall mobile PC unit growth," said Ranjit Atwal, research director at Gartner. "Media tablets, such as the iPad, have also impacted mobile growth," Atwal added.
Apple's connected platforms
What's the effect of all this industry change? Ask Hon Hai/Foxconn CEO, Terry Gou: "We've helped Apple make a lot of money. If our customers make money, then we can also make money. I most fear customers that don't make money."
Gou also admitted that Apple products are "very difficult to make."
That's because the company creates new product categories like wedding guests chuck confetti and uses new processes in actual shipping products that no one else has the testicular fortitude to employ. Which is probably why Apple's become the world's biggest semiconductor buyer.
iTunes becomes iCloud, software sells
iSuppli also makes some extremely interesting points about Apple's strengths, which I think are worth repeating verbatim:
"Apple's strength in hardware sales lies in its device and media ecosystem -- every Apple product is connected through iTunes/iOS and is synergetic with all other Apple products. As a result, committed users of the Apple ecosystem derive more value from each additional Apple device they buy, and users have little interest in leaving the Apple realm.

"In other words, through a common ecosystem, Apple leverages each device to sell other devices. Rising device sales to consumers then leads to increased semiconductor purchasing by Apple.

"In comparison, the traditional PC business does not put heavy emphasis on the creation of an ecosystem. A buyer that once purchased a Hewlett-Packard PC would just as likely purchase a Dell PC next if the price was better, given that there is little or no value in purchasing another Hewlett-Packard."
iPad, iPhone and Mac sales are all booming, and the iPod range seems set to get its own little sprinkle of Steve Jobs iOS pixie dust. What does this mean?
If nothing else, it underlines the inherent value of the connected, mobile vision Apple executives have expertly executed since introducing OS X and the iPod back in 2001. From being the butt of all the jokes of the big PC manufacturers, now the Steve Jobs-led firm is leading the industry.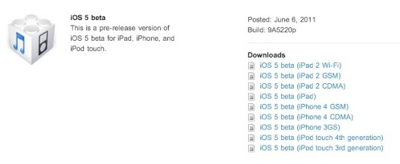 iCloud for Verizon in fall?
It sure is a good time to be an Apple developer---
--- Though not all its decisions please everyone-- take the Verizon iPhone and its lack of access to the beta iCloud features enjoyed by some users on AT&T. Verizon iPhone customers have yet to get the latest version of the iPhone software -- they are still running version 4.2.8. And it looks like there's a wait in store.
"iTunes in the Cloud requires iOS 4.3.3 & iTunes 10.3. iPhone on Verizon runs iOS 4.2.8," Apple PR said in a statement supplied to me this evening.
This matches what I'm hearing from developer sources, who suspect Verizon iPhone users will have to wait until the full release of the iCloud in fall.
Let us know your thoughts in comments below. I'd also very much like to invite you to follow me on Twitter so I can let you know when I post new reports here first on Computerworld.    
Read my five-page WWDC report:
On page 1: "WWDC: Apple's iCloud is 'one cloud to rule them all'"
On page 2: "WWDC: Apple's iOS 5 eats RIM, gets 'Post-PC' updated"
On page 3: "WWDC: Apple's Mac OS Lion will cost $29.99, more"
On page 4: "WWDC: Industry speaks on Apple's iCloud post-PC attack"
On page 5: "WWDC: Will Intel chips power future iPhones?"