By JR Raphael (@jr_raphael)
Put away your pitchforks, folks: There will be no fruit-focused lynching here today.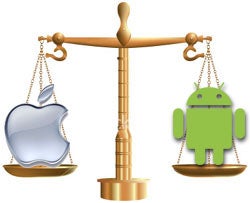 I know, I know: Following Apple's unveiling of iOS 5 and its magical and revolutionary iCloud service, you probably came here expecting an emphatic rant about how everything new in Apple's mobile platform is actually old news for those of us on Android. I've certainly written that story before (okay, I've written it a few times). Today, though, I thought I'd approach the subject from a slightly different perspective.
To be clear, most of the standard "Apple's new is Android's old" arguments apply as much to this year's WWDC announcements as they have to past iEvents. Nonintrusive notifications? Check. PC-like browsing? Got it. PC-free activation and synchronization? Yep. An email client that doesn't suck? Yawn. Apple's iOS 5 is largely the company playing catchup; there's little question about that.
Sure, Apple did integrate some features available via third-party Android apps directly into iOS -- location-specific reminders, for instance, or a BBM-like messaging utility. And the company's iCloud service does offer some neat twists on familiar concepts, like the ability to store your music in the cloud without having to upload it, as you presently do with Google Music. The upload-free option works only with iTunes-purchased songs unless you opt to pay $25 a year, of course -- and the service doesn't actually let you stream music, only download it to an iOS device or to iTunes on a computer -- but it's a nice touch nevertheless. The same can be said for the OS-level integration of media backups, something you need an app to achieve in Android.
Here's the thing, though: While all of these new features will be nice improvements for Apple's existing iPhone users, they won't be enough to convince any meaningful number of Android users (or would-be Android users) to jump ship. They'll lessen the gap in functionality between the two platforms -- for now, at least -- but can you really imagine any Android devotee getting an "OMG, gotta have that" feeling as a result of something in the iOS 5 feature list? I can't.
Consider, too, Android's untouched edge in the field of choice and customization. Android allows you to pick from a huge selection of phones, ranging from simple QWERTY sliders to the big-screened quad-core phones of the future. Once you select a phone, Android gives you the ability to install what you want and use the device how you want. You aren't limited to simple static rows of icons on your home screens (or, now, to Apple's idea of how your lock screen should look). You can customize practically every facet of the system -- heck, you can replace the whole system launcher with a feature-laden alternative, transforming the very core of your phone into something tailored to your tastes.
There are plenty of other Android features still unmatched by Apple, of course -- system-wide voice-to-text functionality, full and unrestricted file access, diverse widgets, true unlimited multitasking, blah blah blah -- but that's all beside the point. The real point is this: Apple and Android represent drastically different mobile ecosystems with drastically different types of appeal. This week's news only reinforces that notion.
Android is all about choice and cutting-edge innovation. New hardware and software alike pour out at a breakneck pace, and the number of options can be almost staggering at times. Apple, on the other hand, is about simplicity and uniformity. Instead of getting every feature and choice under the sun, you get Steve Jobs' carefully controlled vision for what a smartphone should be. If you like that vision, you're in for a treat -- and iOS 5 will undoubtedly make your day.
If you prefer doing things in a way that's different from Steve Jobs' tightly defined ideal, though -- be it in terms of the kind of hardware you prefer or how you like your phone's software to work -- Apple's mobile products aren't going to cut your mustard. And iOS 5, even with its upload-free iCloud, won't come close to changing that.


Ultimately, neither platform's approach is inherently better; it all comes down to your own personal preference. And in the end, there'll always be ample room for both worlds to exist. True, Apple seems unlikely to steal back any of Android's increasing lead in market share (remember, even high-profile launches like the iPhone 4 and Verizon iPhone have been unable to do that). Jobs and co. can perform their usual fact-twisting feats to make it look like iOS is leading the pack, but it doesn't take much to see through their shenanigans (see this story by Business Insider for the latest bout of lie-busting).
But that's all inside baseball; a typical user doesn't know or care what market share his smartphone platform possesses. All he cares about is whether the platform does what he wants. iOS will do more thanks to this year's upcoming update, and for Apple fans, that's fantastic. For the kind of person who's drawn to the choice- and power-driven environment afforded by Android, however, iOS still doesn't do enough -- and probably never will.
In the big picture, to borrow a phrase I once heard, this changes nothing...again. And regardless of where your mobile loyalties lie, that's perfectly fine.
JR Raphael writes about smartphones and other tasty technology. You can find him on Facebook, on Twitter, or at eSarcasm, his geek-humor getaway.
Article copyright 2011 JR Raphael. All rights reserved.