Article copyright 2010 JR Raphael. All rights reserved.
'Tis the season -- and boy, do we have some Android cheer to share with you.
In honor of the holidays, we're giving away a brand new Motorola Droid 2 Global Android phone. The Droid 2 Global is one of the speediest smartphones on the market -- in fact, it's currently the only phone out there with a 1.2GHz processor. The device has a 3.7-inch display with a slide-out QWERTY keyboard. And, thanks to its "global" distinction, it's capable of providing voice and data service in more than 200 countries.
(For full specs and other details, see our previous story: "Motorola's Droid 2 Global vs. the original Droid 2.")
Plus, since the phone's already free, you'll be under no obligation to sign a contract with Verizon in order to use it; you can start and stop service as you wish, when you wish.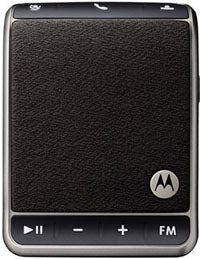 If that isn't enough, we've also got one of Motorola's new Roadster Bluetooth In-Car Speakerphones to fill someone's stocking. The Roadster, normally priced at about a hundred bucks, gives you a high-tech way to stay hands-free while talking in your car. It automatically turns on when you enter your vehicle and plays all of your incoming calls and texts through its 2-watt speaker. And its background-blocking noise cancellation makes sure the folks on the other end can actually hear what you're saying, too.
Finally, to round out our Android holiday giveaway bonanza, we're throwing in an Android t-shirt and 10 Android window decals from AndroidStickers.com. Hey, what can we say? We're feeling merry.
Droid 2 Global and Android Goodies Giveaway: How to Enter
So, ready to win some of this stuff? There are two ways you can enter:
1. Follow @AndroidPower on Twitter and retweet this story. (You can use this link to have the text automatically copied into Twitter for you.)

2. Post an Android-related image -- any Android-related image, from anywhere -- on my Facebook page. Be sure to include the phrase "Android Power" with the picture.
Easy enough, right? You can enter up to one time per method per day -- so yes, you're more than welcome to enter once on Twitter and once on Facebook each day, if you're so inclined. The contest ends at 11:59 p.m. ET this Friday, December 17.
We'll give the Droid 2 Global away as the grand prize, the Motorola Roadster and Android shirt to a second place winner, and Android window decals to 10 other lucky Android fans.
The fine print: You must live within the U.S. to win. You must be following @AndroidPower in order to be included in the drawing on the Twitter side. The Droid 2 Global prize includes only the phone; it'll be up to you to sign up with Verizon if you want to activate voice and data services. And finally, if you've won any other Android Power giveaway within the past six months, sorry -- you aren't eligible.
We'll randomly pick the winners early next week. Keep your eye on Twitter and Facebook for the announcement.
UPDATE (12/20/10): Congrats to Jake Putnam on Facebook, who won the Droid 2 Global from Motorola, and @emilybratkovich on Twitter, who won the Moto Roadster! Also congrats to the Android window decal winners: Tracy Austin, @htvEvoApps, @DougS39, @rok_starr, Melanie Diehl, @grumpy1970, @SFBayMichael, Mike Bryant, @martinhollander, and Jess Masta.
Stay tuned for more Android giveaways in 2011. Happy New Year, everyone! 
Article copyright 2010 JR Raphael. All rights reserved.