Fresh Apple [AAPL] iPhone 5 rumors: the iPhone 3GS won't be supported by iOS 5; the fifth-generation model will be smaller, lighter and thinner, and that 8-megapixel camera seems certain, as Apple begins agreeing component supply deals for its next smartphone, expected for introduction in September.
[ABOVE: That invisible iPhone at MIT is not the iPhone 5, but an interesting experiment in user interfaces.]
Smaller, lighter, bigger
Speaking to AllThingsD, Orange CEO Stephane Richard (49) talked about the smaller-sized SIM card Apple and its carriers are developing for future mobile devices. Apple had wanted to get rid of the SIM, but bowed to carriers who told the firm it was a "critical piece of the security and authentication process."
[This story is from Computerworld's Apple Holic blog. Follow on Twitter or subscribe via RSS to make sure you don't miss a beat.]
That small SIM means the new iPhone will be smaller and thinner, Richard revealed, it will also be lighter and equipped with an edge-to-edge touchscreen, which makes it bigger (in a way). I think Apple may dispense with the physical Home button in favor of a synaptic version to increase display size.
Richard also said good things about Apple, "They just created smartphones with the iPhone. Everybody should be grateful to them to have put such a product in our market."
The Apple smartphone is expected to be a world phone, equipped with a baseband chip for both GSM and CDMA networks, FBR Capital Markets analysts said last week.
"Qualcomm is replacing Intel as the baseband supplier, selling an integrated CDMA/WCDMA baseband that allows Apple to streamline production."
Your pocket-sized, connected, HD video camera
FBR also claimed the device will sport an 8-megapixel camera. This has now been confirmed with one of Apple's regular suppliers, Largan Precision, allegedly contracted to manufacture the part.
"Taiwan-based Largan Precision currently sees 8-megapixel phone-use lens modules account for nearly 10 percent of its total lens module shipment volume, but it may see 8-megapixel modules replace 5-megapixel ones to become the mainstream for smartphones in the third quarter of 2011 due to possible orders from Apple, according to industry sources in Taiwan," the report explains.
It has recently been claimed that Apple's purchased hundreds of glass cutting machines to be used in production of the device, in order to create curved displays -- Apple will need to craft the glass displays to fit the chassis better if it wants to deploy end-to-end screens in these smartphones.
"Apple reportedly has purchased 200-300 glass cutting machines to be used by glass makers, said the sources. The glass slicing machines are currently being stored at associated assembly plants and will be brought online once yield rates for the production of curved glass reaches a satisfactory level, the sources revealed," the report explains.
Component deals are going down
Apple has added Foxconn Electronics, Foxlink, Gold Circuit Electronics (GCE) and Epistar as component suppliers for the iPhone 5 smartphone.
The iPhone 5 is expected to run on Apple's new A5 CPU, which is built on ARM's Cortex A9 architecture. It is also likely it will use the iPad 2's dual-core SGX543 GPU. This potentially means you can look forward to 1,080p video recording and HDMI-quality output.
There's been a few other recent reports, including one patent claim which seemingly suggests the antenna may one day be stashed underneath the Apple logo. There's even one report claiming to show the back of the new device.
Farewell, iPhone 3GS?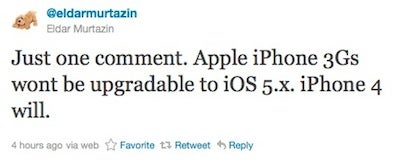 iPhone 3GS owners look set for disappointment, Mobile Review editor in chief, Eldar Murtazin has warned. In a Tweet today he writes, "Just one comment. Apple iPhone 3Gs wont be upgradeable to iOS 5.x. iPhone 4 will." Apple has already discontinued support for the iPhone 3G and original iPhone.
Additional iPhone 5 expectations include:
64GB models, a metal frame, available in white, potential support for NFC, 4-inch (end-to-end) display, Apple Maps, Siri voice control, Smart Covers for iPhone, curved back, wireless sync and (potentially) a Thunderbolt connection, assuming the company does eventually side-step European moves to enforce a single mobile phone interface on these devices by providing an adaptor **.
What are you expecting from the new device. Please, share your thoughts. Jot them down in comments below, and I'd be most pleased if you chose to follow me on Twitter so I could let you know as new reports get published here first on Computerworld.