We've spent a lot of time mulling over what the Apple [AAPL] iTunes 'iCloud' service might be like. We now learn it is a music locker with an added file-sharing amnesty that also upgrades all your low-quality tracks to higher bit-rates stored on the iTunes servers.
[ABOVE: Apple's WWDC 2011 invitation. Some people think the company will launch an iPhone. That's not what I'm expecting.]
Music in the sky
In recent days, EMI, Sony and Warners have all signed-up to the new system. Universal hasn't agreed a deal yet, but is expected to do so soon.

Business Week says its sources who claim Apple's service will scan a user's music collection and mirror it in the cloud. That's good because it means you won't have to go through the lengthy process of uploading your music and bursting your ISPs bandwidth.
[This story is from Computerworld's Apple Holic blog. Follow on Twitter or subscribe via RSS to make sure you don't miss a beat.]
The service will also let file-sharers mirror their tracks using iTunes.
That's very interesting, because it represents some form of amnesty position for such users, and also because it means the labels can recover a little lost revenue, as the service is expected to be made available for a subscription fee as part of MobileMe.
"Armed with licenses from the music labels and publishers, Apple will be able to scan customers' digital music libraries in iTunes and quickly mirror their collections on its own servers, say three people briefed on the talks. If the sound quality of a particular song on a user's hard drive isn't good enough, Apple will be able to replace it with a higher-quality version. Users of the service will then be able to stream, whenever they want, their songs and albums directly to PCs, iPhones, iPads, and perhaps one day even cars," writes Business Week (who obviously haven't heard of iPod/iPhone in-car integration systems.)

Killing the mockery birds
Apple's purported service contrasts well with music locker services recently made available by Amazon and Google. These unlicensed services require users to upload their own collections, and, because they lack label backing, are unlikely to be able to sustain a forest of ancillary services or devices in the long-term.

Apple's service will let subscribers stream their songs and albums directly to Macs, PCs, iPhones, iPads, iPod touch devices and Apple TV.

"We will come to a point in the not-so-distant future when we'll look back on the 99¢ download as anachronistic as cassette tapes or 8-tracks," Ross Crupnick, a music analyst at NPD Group told Business Week.

Apple's iCloud is expected to deliver a wide range of services, including syncing and storing of personal data, potentially including your Home folder. The service seems set to act as the glue to bring all Apple's platforms together in one place.
[ABOVE: Larry Ellison gets the crowd laughing in his waxed invective at the cloud buzzword thing.]
Inherit the wind
Bandwidth and security are likely to be the biggest challenges delivering cloud-based services from any vendor.

Almost half (48 per cent) of all organizations in the UK already using cloud computing in some form, 85 per cent of existing user are confidently predicting further roll-out of cloud provisioning across a number of core business applications.

"End-user organizations continue to express anxieties about data security, privacy and sovereignty, all of which were cited by a majority of respondents and all of which the industry can and need to present a clearer position around to allay these natural fears. Security concerns have forever been a feature of discussions on the cloud, although that is not in any way to make light of such an important issue," says Chris Baldock, Managing Director of intY.

Another challenge Apple will face as it moves to bring its services to international markets will revolve around data nationality.
Will Mac users want their music and personal data hosted on servers in the US, where they are covered/protected by US data protection laws, or will they wait for locally-hosted services, protected by their own national data laws.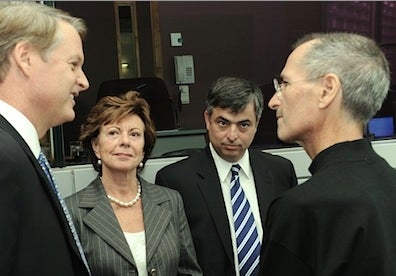 [ABOVE: Right to left: Steve Jobs, Eddy Cue, Neelie Kroes and an unidentified male. (Source EC]
Who owns your data in the cloud?
Cloud based challenges such as these seem on the fast track to being resolved, in so far as government and NGO's can ever operate on the fast track. For example, Neelie Kroes, European Commission Vice President for the Digital Agenda, has launched a public consultation on the benefits that cloud computing can deliver.

Andy Burton, Chair of the Cloud Industry Forum and CEO of Fasthosts, says, "The EU consultation is inviting all interested parties, in particular cloud developers and cloud users, to explain their experience, needs, expectations and insights into the use and provision of cloud computing."

Problems of internationalization mean Apple will be unlikely to offer its iCloud services to international markets from the get-go.
This also challenges the depth to which Apple will commit its cross-platform strategy to these new solutions. Execs will have to consider, if iCloud is the glue and is unavailable in European markets, will lack of support for such services dampen device and Mac sales?

Apple is expected to preview its cloud plans as early as June at Apple's annual Worldwide Developers Conference in San Francisco.
Who owns data in the cloud? Is there enough bandwidth for services like these? Can mobile carriers support iTunes streaming? Is this set to be hope or hype? Drop me a line via Twitter or in comments below and let me know. And please, I'd be honored if you chose to follow me on Twitter so I can let you know when these items are published here first on Computerworld.