By JR Raphael (@jr_raphael)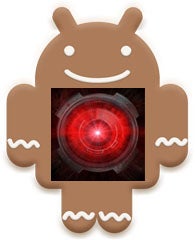 Well, gang, it's official: Motorola has just confirmed that Android 2.3, aka Gingerbread, will reach the Droid X, Droid Pro, Droid 2, and Droid 2 Global phones.
The news comes by way of Motorola's owner support forum. Buried in a thread about Exchange-based syncing, a Motorola employee identified as "Moto_Calvin" posted the following message late Monday:
The Gingerbread (GB) software update will include improved Exchange Activesync functionality. 

The following Motorola Droid devices will be updated to GB:

Droid X, Droid Pro, Droid 2, Droid 2 Global
As for a time frame, Moto_Calvin goes on to state that the Droid X's Gingerbread update is "currently scheduled to be released before the end of the second quarter" -- in other words, by the end of June. The Droid Pro, Droid 2, and Droid 2 Global, he says, are on-track to receive their Gingerbread upgrades "before the end of the third quarter or sooner," depending on the speed of Verizon's approval.
[Related: Motorola's Droid X2 vs. the original Droid X]
This marks the first time we've seen definite and official confirmation that Gingerbread is coming to any of these four phones. Sure, we've seen plenty of leaks and rumors, particularly surrounding the Droid X -- but thus far, the info's been based on hearsay and has generally turned out to be pretty flimsy in the end. So now we have it on-record: The Droid X, Droid Pro, Droid 2, and Droid 2 Global will be receiving Android 2.3.
One other thing worth mentioning: You might have noticed that some other Moto phones are conspicuously absent from the announcement -- the original Motorola Droid, for example, and the Cliq 2. Their omission certainly isn't reassuring, but I wouldn't necessarily read too much into it. The announcement also didn't mention the Atrix, after all, and Motorola has indicated that it plans to upgrade that phone to Gingerbread.
Remember, you can keep tabs on the Gingerbread status for any device at my Android 2.3 upgrade list. It's always kept up-to-date with the most current info available.
(Thanks, Jason!)
JR Raphael writes about smartphones and other tasty technology. You can find him on Facebook, on Twitter, or at eSarcasm, his geek-humor getaway.
Article copyright 2011 JR Raphael. All rights reserved.