Away from the world of Apple [AAPL] iPhone 5 rumor, as detailed here, today I'm liking Seagate's new GoFlex Satellite drive, because it acts like a private cloud for all your digital data and lets you access your 'stuff' using an iPhone, iPad or iPod touch, a Mac or PC -- even an Android system.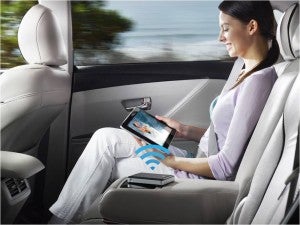 [ABOVE: PR shot shows you that using the device makes weird blue symbols appear in your car!]
The drive is built for the iPad, really. It seems pretty clear the company thinks many media users will choose this option as a portable media hub. The USB 3.0 battery-powered external drive has 802.11b/g/n Wi-Fi inside and is available with 500GB capacity.
[This story is from Computerworld's Apple Holic blog. Follow on Twitter or subscribe via RSS to make sure you don't miss a beat.]
Essentially the value proposition here is that you fill the drive up with movies which you can then stream over Wi-Fi to up to three iPads at once.
This frees up space on the iPad (or other Apple mobile device) for other things. It is a real drive though, so you can also access documents, images and other media, it automatically organizes all your digital media for you.
"Tablets and smart phones have a relatively small amount of storage capacity available to them," said Greg Falgiano, a senior product marketing manager at Seagate writing on the company blog.  "Most tablets, for example, are limited to 64GB of capacity, and there's no way to upgrade the internal memory. With our new app, you can conveniently access any of the files stored at your home without storing it on your mobile device."
iPad, iPhone and iPod touch users access the drive using Seagate's free GoFlex Media app. You can also access what's on the drive using any device equipped with a browser.
There's limitations:
Battery life is five hours, but I've no idea yet how long that life will last if you do have three iPads streaming different movies from the device at once. Though it the battery is rechargeable.
Security is another issue. The drive does support WPA, but the contents of the drive aren't encrypted at all. So you probably won't want to put anything on there you wouldn't want the world to see.
Finally there's file formats. Unless Apple has changed its ways, I don't see iTunes-purchased movies being supported by the system (and I haven't been able to confirm this yet with Seagate's people). There's other options, of course, as detailed below.
Who is going to find the drive useful? I think it should appeal to anyone with a big movie habit hitting the road. For example, students setting up in new towns, business travelers who want access to a large media collection on the road, and movie-loving families who want a compact solution for a shared media library while on vacation.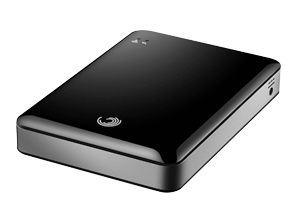 [ABOVE: Note the rounded corners and iPhone-inspired design in this device.]
I'm a little disappointed at the security in the device. I'm still searching for a Wi-Fi drive capable of Time Machine support that doesn't need to be attached to an AirPort Base Station to operate. The logic is that if my computer equipment were stolen then I'd at least have all my data tucked away on a hidden drive somewhere else in the office.
Seagate's new solution is available for pre-order in the US now, and in the UK/Europe in August. It costs $199.99, and is scheduled to arrive in Best Buy stores in July 2011. The drive weighs 267g.
Got a story? Drop me a line via Twitter or in comments below and let me know. I'd like it if you chose to follow me on Twitter so I can let you know when these items are published here first on Computerworld.