Article copyright 2010 JR Raphael. All rights reserved.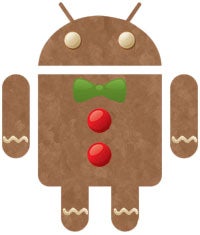 Google's Android Gingerbread isn't ready for consumption yet, but we've just gotten a few interesting new nuggets about the upcoming release.
[UPDATE (12/6/10): Gingerbread is here. Click over to our complete Gingerbread FAQ for everything there is to know.]
Speaking at the Web 2.0 Summit in San Francisco, Google CEO Eric Schmidt divulged that Gingerbread will be coming out "in the next few weeks." He also whipped out a T-Mobile-branded Android phone that bore a strong resemblance to the rumored Nexus S by Samsung. He referred to simply as an "unannounced phone," however, and declined to give any specific details about the device. 
[Video: Google CEO talks Android, Gingerbread, and Chrome OS] 
Schmidt went on to suggest that a Nexus One successor could be in the works. When asked about his previous remarks downplaying the possibility of a second Nexus, Schmidt coyly commented: "I said there would never be a Nexus Two."
One of the other panelists responded: "But an S?"
Schmidt then stated: "I said Two," putting a strong emphasis on the final word.
Back in July, Schmidt had told The Telegraph:
The idea a year and a half ago was to do the Nexus One to try to move the phone platform hardware business forward. It clearly did. It was so successful, we didn't have to do a second one. We would view that as positive but people criticized us heavily for that. I called up the board and said: "OK, it worked. Congratulations -- we're stopping."
Interpret as you will.
Schmidt also mentioned that Gingerbread would include new purchase-oriented services. He discussed the addition of support for NFC (Near Field Communication) chips that'll for allow "bump"-style exchanges of information.
Google, you may remember, dropped hints last week that changes were coming soon to the Android Market. It's not immediately clear if the new technology shown off by Schmidt will be in any way tied to those developments.
You can watch Schmidt's entire 45-minute session for yourself here. 
JR Raphael writes about smartphones and other tasty technology. You can find him on Facebook, on Twitter, or at eSarcasm, his geek-humor getaway.
Article copyright 2010 JR Raphael. All rights reserved.