Article copyright 2010 JR Raphael. All rights reserved.
Keeping up with Android news can be a full-time job these days. That's why we've decided to start bringing you the Android Power Round, a fast-paced round-up of the week's most interesting and noteworthy Android news.
Think of it like a booster shot for the Android-obsessed brain -- with a healthy dose of snark added in for good measure.
This week: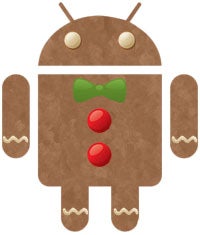 Gingerbread's baking. Google is about to release the software development kit for its next version of Android, according to an anonymous source. Let's hope he isn't the same guy who keeps crying wolf on that damn Verizon iPhone.
Froyo's flowing. T-Mobile starts rolling out Froyo to the original MyTouch 3G, and the Samsung Galaxy S gets ready for its 2.2 turn. AT&T, meanwhile, grumbles: "Wait a minute -- you mean we have to update these things, too?"
Porn's appearing. A photo shows a Romanian version of the Galaxy Tab with a button that says "Porn" in the middle. Either someone made an unfortunate translation, or Steve Jobs snuck into Samsung's production line.
Android's a-searchin'. Android users search twice as much as other smartphone owners, Google says. Granted, half their searches are for porn -- but hey, it's all good.
Flash is soaring. Adobe's Flash Player for Android tops 1 million downloads. In a related story, Steve Jobs delivers 1 million lashes to a Droid-shaped voodoo doll in his Cupertino castle.
Birds are flocking. The popular game Angry Birds debuts on Android, and high demand causes the creator's servers to crash. Guess plenty of fowl are friends of the Fail Whale.
Dudes are dominating. A recent survey finds that Android attracts too many men and not enough women. We had a college roommate with the same problem.
Opera's expanding. Opera announces an upcoming beta version of Opera Mobile for Android. Both of the browser's dedicated users are said to be very excited.
Best Buy's bantering. Best Buy's CEO says he'd consider building a custom app store for Android. Potential features would include unhelpful employees and overpriced accessories.
(Disclaimer: The Android Power Round is heavy in sarcasm, snark, and unsaturated fat. Enjoyment of this product should be attempted only by healthy individuals who have not recently undergone humor-bypass procedures. Recommended for external use only.)
JR Raphael writes about smartphones and other tasty technology. You can find him on Facebook, on Twitter, or at eSarcasm, his geek-humor getaway. 
Article copyright 2010 JR Raphael. All rights reserved.