Article copyright 2010 JR Raphael. All rights reserved.
Love it or hate it, you now have a choice when it comes to Gmail's Conversation View method of grouping e-mails. Conversation View, in case the term doesn't ring a bell, is Gmail's signature system of displaying messages from the same thread as a single item within your inbox.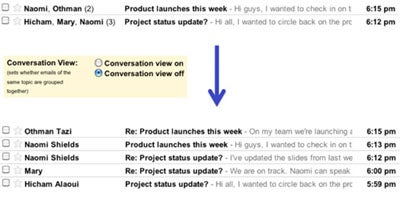 After years of mixed reactions, the G-Team has finally introduced an option to disable Conversation View and keep your e-mails separated. In a blog posted on Wednesday, Gmail Technical Lead Wiltse Carpenter announced the new setting, acknowledging the passion with which some users abhor Gmail's message grouping:
The way Gmail organizes mail into conversations is like cilantro. You either love it ... or you hate it. ...

Just as an outspoken minority has banded together in unison to declare their distaste of one of nature's most delicious herbs, some of you have been very vocal about your dislike of conversation threading. So just like you can order your baja fish tacos without cilantro, you can now get Gmail served up sans Conversation View.
If you're among the "anti-conversationalists," to borrow the term coined by our friends at Technologizer, this is clearly welcome news. But if you spend much time looking at e-mail from your cell phone, you may want to hold off on your celebration.
The reason: Disabling Conversation View in Gmail won't actually change anything on your phone. Not yet, anyway.
Google's Android crew has confirmed to me that the Gmail Android app doesn't support non-Conversation View viewing at the moment. The threadless option won't affect the way you see messages on the regular Gmail mobile site as of now, either. So unless you always load the full Gmail Web site in your mobile browser -- or you use Android's non-push E-Mail app instead of the native Gmail application -- you're out of luck when it comes to group-free on-the-go viewing.
Disappointing? Sure. (I'll admit it: I'm a bit of an anti-conversationalist myself.) But hey, all things in time. Having the choice to turn off Conversation View is a real coup for those of us in the anti-conversationalist camp. Hopefully the unthreaded way of life will reach our cell phones soon, too.
JR Raphael writes about smartphones and other tasty technology. You can find him on Facebook, on Twitter, or at eSarcasm, his geek-humor getaway.