Article copyright 2010 JR Raphael. All rights reserved.
I don't know about you, but I don't typically think of "Oprah" and "Android" in the same sentence. Come to think of it, I don't typically think about Oprah much at all. (No offense, Lady O -- I'm just not in your demographic. You know, the whole Y chromosome thing and all.)
That's why I was surprised to see Motorola's messages this morning teasing some big "surprise" that'd be revealed on The Oprah Winfrey Show. The phone-maker posted updates on both Twitter and Facebook promising an "exciting Motorola announcement" on today's Oprah season-opener.
Well, friends, I can now tell you what that announcement is: Moto will be revealing its new Motorola Defy Android phone for T-Mobile.
Read on for the full scoop. And feel free to go ahead and watch the lovely Ms. O, too, if you're so inclined -- I promise I won't tell.
[Get Android Power delivered. Follow @AndroidPower on Twitter or subscribe via RSS today.]
Motorola Defy: The 'Rugged' Android Phone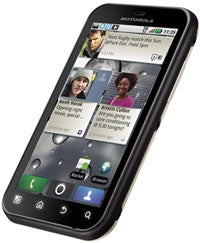 Word's been out about the Motorola Defy for a couple of weeks now, but this is the first official announcement we'll see about its availability in America. The Defy is Motorola's attempt at a "rugged" Android phone -- a device "equipped to withstand all that life throws your way," as the company will be branding it.
So what does that actually mean? The Motorola Defy is scratch- and water-resistant and also dust-proof. I wouldn't try taking it in the shower with you -- potential damage aside, that'd just be a weird thing to do -- but the Defy can supposedly withstand rain, sand, or other environmental disasters that could come your way during an average day (which may or may not be taking place on a stormy beach).
Durability aside, the Defy boasts a 3.7-inch WVGA display with 854-by-480 resolution (think original Motorola Droid). It runs on an 800MHz CPU along with 512MB of RAM. The Defy comes with 2GB of internal storage and a preloaded 2GB microSD card, expandable up to 32GB. And it has a 5-megapixel camera equipped with LED flash.
On the software side, the Motorola Defy will ship with Android 2.1 -- no definite word yet on availability or timing of an Android 2.2 upgrade. Why is the phone not loaded with Froyo, you might be wondering? One possible explanation is that it comes with Motorola's Motoblur interface; as we've seen plenty of times before, these manufacturer UIs frequently cause delays in Android updates, both with new phones and with devices in line for upgrades. (Though the Defy won't have full Adobe Flash support on its launch, it will offer Flash Lite for your mobile browsing pleasure.)
The Motorola Defy will be available on T-Mobile "in time for the holidays," meaning we'll likely see it debut within the next month or two. Pricing info is still under wraps as of now.
So there you have it: Motorola's big Oprah-Android surprise. Here's hoping Moto CEO Sanjay Jha breaks out some Tom Cruise-style couch-jumping for the cameras.
JR Raphael writes about smartphones and other tasty technology. You can find him on Facebook, on Twitter, or at eSarcasm, his geek-humor getaway.
Article copyright 2010 JR Raphael. All rights reserved.