The iPad may be more totable than a full-blown laptop, but it's not portable enough to pop in my purse and take along for several hours of sightseeing. I'd been hoping Apple would release some sort of 7-inch "iPad junior" before I broke down and bought the full- (and only-) sized iPad 2. And while I find a 10-inch screen great for reading, Web surfing, viewing photos and watching TV, I still thought it might be nice to have a tablet small and light enough to travel with me a little more frequently.
I can't test a 7-inch iPad, of course, since one doesn't exist. But I did get my hands on a review 7-inch Samsung Galaxy Tab. And I discovered that since I've become used to the real estate of a full 10-inch display, it's hard to downsize.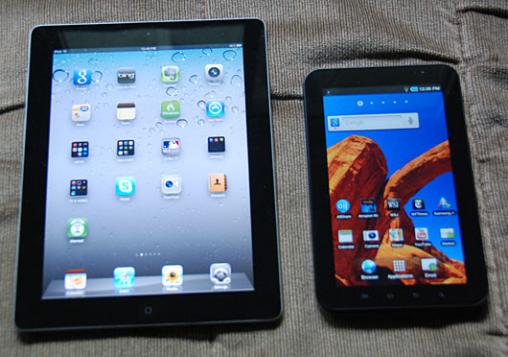 7-inch Galaxy Tab next to the 10-inch iPad 2
The 7-inch Tab is lighter as well as smaller than the iPad -- 13.58 oz vs. 21 oz. -- but it's weighty enough that I wouldn't take it out with me for the afternoon on a whim. The difference between the Tab and even smaller Kindle (8.5 oz) feels significant -- I have taken my Kindle along on a day of sightseeing in order to refer to some e-guidebooks, and found the added weight just this side of acceptable. (Keep in mind I'm usually dragging around a full-sized digital SLR when traveling as well, so that's using up a good amount of my allotted gadget grams.)
The little Tab has tended to sit on my desk, even when I'm relaxing and would have expected to be happier using a smaller, lighter device than the iPad. Part of that may be the Galaxy's boxier design -- sleek form factor matters to me in a device that I'm carrying and holding a lot, and Apple definitely has the edge there. I simply enjoy the physical experience of using the iPad hardware more, due to its form factor as well as screen size.
I was, however, pleasantly surprised by the Android experience -- which has come a long way since I tried out a Droid phone earlier this year.
I find the Tab's on-screen keyboard better thought-out than the iPad's when it comes to non-alpha characters. Typing numbers is easier, since I have the option of just tapping and holding various letter keys to get to a number instead of clicking through to a separate keyboard and then often having to click back to the default alpha keyboard. In addition, getting to characters like # or % doesn't involve tapping twice for a third-level keyboard (often followed by the need for yet another tap to get back to the default alpha keyboard when done) as it does on the iPad. On the Tab, those keys are on a second, not third, soft keyboard.
And while I understand Steve Jobs' issues with Adobe Flash -- and won't be sorry if technologies like iOS end up killing off Flash someday -- right now there's still a fair amount of Web content I can't view on my iPad that I can see on the Tab.
Overall, I haven't spent enough time with the Tab to decide whether I'm as satisfied with the Froyo implementation of Android as I am with iOS; I'd need a couple of months of daily use to see if various tasks feel as intuitive and ingrained as they do for me after using the iPad since May.
But when considering screen size alone, I'm no longer sure of my need for an "iPad junior." For use at home or when visiting family & friends, the 10-inch form factor has turned out to be a nice sweet spot between my significantly smaller gadgets (smartphone Kindle) and my laptop. If I needed a tablet for work and spent a lot of time on the road, I might have opted for a 7-inch tablet to shave weight and bulk from my carry-on; but I don't have to worry about air travel more than a few times a year. Nevertheless, if Apple ever does release a smaller, lighter and cheaper 7-inch iPad, I might end up buying one -- especially if I could use all the same apps I already purchased for my iPad 2. After all, I'm not sure how long my gadget continuum's size/weight gap between Kindle and iPad can be left unfilled.
See the rest of the iPad Chronicles or subscribe by RSS.
Sharon Machlis is online managing editor at Computerworld. Her e-mail address is smachlis@computerworld.com. You can follow her on Twitter @sharon000, on Facebook, on Google+ or by subscribing to her RSS feeds:
articles | blogs .