Microsoft just released its Bing app for Android, and after putting it through its paces, it's clear that it's a winner. This is an app that deserves a place on your Android device.
As you can see below, the app looks and works much like the Web-based Bing, except that it's targeted at the kind of information you're likely to want when you're mobile. So in addition to the normal search and images search, there are also options to search for movies, directions, maps, and a very nice "local" feature that looks for food, entertainment, and other services near you. It does this by tying into your phone's location feature.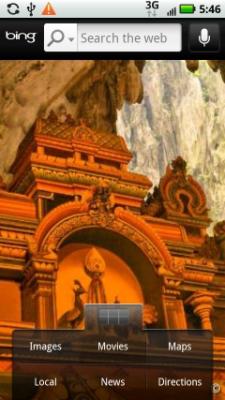 Why you want Bing isn't necessarily for the quality of the search results, because in large part, they're indistinguishable from the results you'll get using Google and various Google services on your Android device. What's best about it is that it packs all the search services into one location. So you don't need to launch separate apps for finding direction, finding local restaurants, and so on. It's built into Bing's interface.
That being said, it does have some nice, unique features. The display in the image search is better than Google's. And, as highlighted in the Microsoft blog post announcing the app, it does a great job of finding flight information for you.
The only puzzling thing about this launch is that according to the Microsoft post, the app is only available for Verizon customers. Plenty of Android users will want this app, not just those who use Verizon. I hope that eventually it becomes available for everyone.