It's occasionally useful to queue up an email for automatic sending in the future -- birthday greetings, early-morning mailing list updates, warnings to Doc Brown to wear his bulletproof vest. I've been playing with two tools that let you create e-mail today for delayed delivery.
Boomerang is a Gmail add-on, and LetterMeLater.com is a Web-based service. Both services are free. Boomerang requires a download and install, LetterMeLater works entirely over the Internet.
Boomerang for Gmail, which is currently in beta, runs as an extension on Firefox or Google Chrome and adds a big "Send Later" button to the top of your email compose window.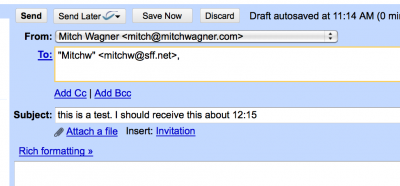 Click the button and you're presented with a dropdown of options for times to send the mail.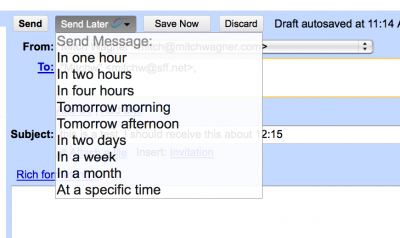 Make your selection and you're done. The email stays in your Drafts folder, ready to go out at the time you tell it. You can shut down your browser, turn off your computer, and go on to other things; the action happens on the Boomerang server, which dips into your Drafts folder in Gmail and send the email at the right time.
Boomerang, from Baydin, Inc., also lets you temporarily move a message out of your inbox by right-clicking and telling the software when you want it to return. At the designated time, the email returns to your inbox marked unread. It's a way to delay dealing with email until you have time. Baydin offers an Outlook plug-in with the same "snooze button" capability.
Boomerang for Gmail is now in beta, and free, but the company plans to charge for Google Apps accounts in the future. The Outlook version is $15.
LetterMeLater
LetterMeLater isn't limited to Gmail. It doesn't care what email client and service you use. LetterMeLater requires you to register online, and you can then compose your message to the future from the LetterMeLater Web site, or just send an email to me@lettermelater.com. The top of your message body should contain a line starting with "to:" followed by the email address of your actual recipient, and another line starting with "when:" followed by the delivery date and time. You can also designate cc and bcc recipients, set up recurring email, and more.
LetterMeLater gives you a comforting confirmation message when it's ready to send your email out, a feature which Boomerang lacks.
Pricing for LetterMeLater is free for up to 30 messages per month, $19.95 for up to 400 messages per month.
Both Boomerang and LetterMeLater have advantages and drawbacks. Boomerang requires you install software on your desktop, and only works with Firefox and Google Chrome, so if you run Internet Explorer or Safari, or access your Gmail from a desktop client, you're outta luck. You're also giving Boomerang access to your Gmail account, which is a potential security liability. Boomerang stores its waiting messages in your Drafts folder, and you'll need to avoid the temptation to look at them and revise them, because if you do that the scheduling will break (an easy fix -- just re-queue a new message with the same content).
LetterMeLater doesn't have the same drawbacks as Boomerang, but it also doesn't give you Boomerang's convenient, inside-Gmail user interface. It requires that you either use its Web interface, or remember the me@lettermelater.com address and the syntax for composing messages. It's dead simple, but you might forget if you use it infrequently.
Of the two services, I prefer LetterMeLater for its flexibility. I can use it from my desktop, iPhone or iPad. On the other hand, Boomerang is a great service too (so long as you can resist temptation to peek at your draft messages), for its easy-to-use user interface and close integration with Gmail.
Boomerang is currently in closed, invitation-only beta, but they've provided 200 invitation codes for Tool Talk readers. The invitation code is "tooltalk."
What are delayed-mail services good for? A few users on the LetterMeLater forum describe how they use LetterMeLater, and they range from the practical to the whimsical. Luis, who is apparently an IT manager, uses it to send a broadcast message to remind users to leave their computers switched on for scheduled network backup. Elle Amoura says she's a freelance designer and a night owl. She uses LetterMeLater to send messages to her clients during the day because she thinks that looks more professional than sending out a message in the wee small hours of the night. And De TeleTomMachi says: "I started this project where I write 10 e-mails to all my friend and sent them randomly over the year. All those mails have been written in 4 days of seclusion. The mails contain love confessions, memories, stuff like that."
is a freelance technology journalist and social media strategist.