Boxee announced a partnership today with D-Link the network equipment maker.  I love this idea and I think that if D-Link holds up their end of the deal and also doesn't charge too much for the product, they should see some good sales.  Anything over $200 is too much.
Boxee is a Media Center software development company that has been integrating free multimedia on the web into their products. Videos from Youtube, Hulu, CBS Sports, TED, etc. has all made it to the platform (though Hulu and others try to block Boxee).  Boxee also lets you download and watch your Netflix and Amazon movies without having to plug in an additional box. 
Until now, Boxee ran only on Mac OS X (Intel only, 10.4 Tiger+) Apple TV (Any version) Microsoft Windows (XP, Vista, 7; x86 32-bit only) and Ubuntu Linux (x86 32-bit only).
It is especially nice to have Boxee on AppleTV because there are lots of gaps in Apple's content.
Apple, for one, wasn't too happy about seeing Boxee on its AppleTV media Center.  They've been playing a cat and mouse game disabling their software during every firmware update for the past two years.  Boxee comes back and finds a way back on the box.  Rinse. Repeat.
Why?  Apple is most likely worried about losing some TV show and movie sales from the iTunes store.  How many more people would have bought AppleTVs had they allowed Boxee to work their magic on there and even endorsed them.
D-Link isn't as coy.  They are now the exclusive set top box partners with Boxee and expect to be selling the Boxee "Box" by early 2010.
I'm going to go out on a limb here and say that the Boxee Box is running on Linux, as it would be un-necessary overhead to put Mac or Windows on this little thing.  Also, a few D-Link products already run on Linux.  Boxee mentions that only some of their software (Windows DirectX) can go up to 1080P so I also believe that this will be 720P max.
The hardware is a little unorthodox.  It looks like it is sinking into the surface it is sitting in a diagonal fashion.  Don't try putting this in your rack or set anything on it. This aspect is definitely form over function.
Front: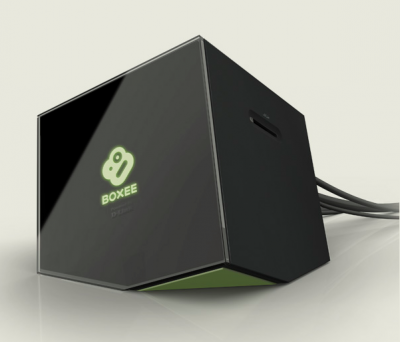 Back: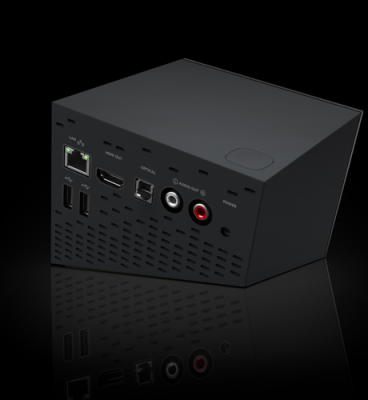 Specifications
Item (WxDxH): 120mm x 120mm x 120mm
1 HDMI Connector
1 Optical Digital Audio (S/PDIF) Connector
Composite Audio Connectors
Power Button
AC Power Connector
Ethernet Connector
2 USB 2.0 Connectors
SD Card Slot
Boxee also demonstrated its new application interface at an event in Brooklyn today.   It is more polished and takes cues from Apple's redesigned AppleTV 3.0 interface.  It should be ready for Primetime by the time CES gets rolling in January. See some details below:
As a free download, there is no harm in trying out the software today.  If you are interested in Apple third party Media Center software, you might also want to try out Plex, which has a much smoother interface and an app store.