Bing Maps: Microsoft finally beats Google at its own game
The beta of the latest version of Bing Maps is out, and if it's tweaked properly, it will clearly be the best mapping site available. This may well be a first: Microsoft is on target, for the first time, to roll out a Web-based service that bests Google.
The latest version of Bing Maps is still in beta, so it's far from perfect. The biggest issue is that it's simply too slow right now. If it's not sped up, Google will still be superior. But if Microsoft solves the performance problem, plenty of people will want to switch from Google Maps to Bing Maps, including me.
What's so great about it? Features, features, and more features. Start off with the basics: You get a choice of multiple views of your maps, including a standard road map, an aerial view, or a bird's eye aerial view with more details. By default, your map style changes for your best view as you zoom in and out. You can see the options for your maps, below.
That's just the start, though. The Streetside view is much like Google Street View, except that the street views are much clearer and in higher resolution. There don't seem to be as many Streetside views yet as Google Street View, but presumably that will be fixed.
Bing Maps really shines when it comes to all the applications you can layer on top of your maps. As with Google, you can automatically show nearby businesses, and get details and reviews about them. But it offers far more as well. You can get information about current traffic conditions, and even live video. You can overlay information about roadside attractions, and roadside sculptures. Want to see graffiti? There's an app for that. There's also a Twitter app for seeing tweets from nearby Twitter users. And there's a great Photosynth app for viewing full 3D photos that other people have created. I've browsed through several at the New York Metropolitan of art --- they're well worth visiting.
Below you can see a small menu of app choices.This is just a small selection.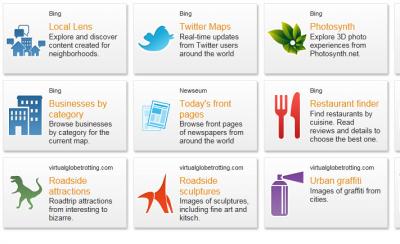 There's plenty more here as well --- it's well worth a try. At this point, it's too slow, and if isn't sped up, that will be a serious flaw. But if performance is juiced up, Bing Maps will be a clear winner.
Shop Tech Products at Amazon