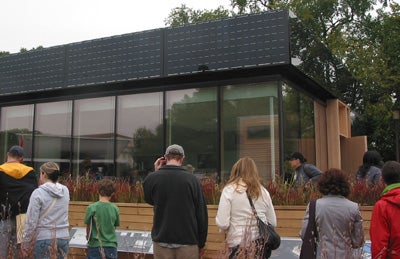 A visit to the Solar Decathlon on the National Mall this week has renewed my faith in the future. Part of this feeling comes from the inventive and eye-opening use of technology in building solar houses, but most of it is due to the enthusiasm and smarts of the students who did the work.   
University teams have built 20 solar powered houses for this U.S. Department of Energy sponsored competiton. The houses were reassembled on the Mall for display and judging on their use of technology, design and other attributes.
The structures meld information technology with control systems in a way that turns the house into an adaptive machine: an integrated device that collects and produces measurable data on electric use by circuit, as well as water, air and humidity conditions. It gives an occupant understanding and control of his environment.
In these houses, everything matters.  Shades and blinds, for instance, are critical in control systems because of their role in temperature regulation and energy storage. There is no battery storage; instead, inventive materials and techniques are used to direct light, in the case of a Canadian entry, to heat-absorbing salt-hydrate packets under the floor boards.  Web base apps, also adapted for iPhone in these models, allow for remote adjustments.
The homes are within range of affordability. It cost the team of students from Santa Clara University $550,000 to build their 800 square-foot house, the maximum size allowed. They believe their home can be mass produced for $300,000. Land and development would add to that, but no utility bill will mean savings of hundreds of dollars a month in many regions, especially the Northeast, burdened by excessively high electric cost and dependence on oil for heat.
Solar panels have a life of about 25 years, but the cost are dropping and technology is improving so by the time an upgrade is needed a panel replacement effort may be little burden.
The houses are beautifully designed. Team Ontario, comprised of students from the University of Waterloo, Ryerson University, and Simon Fraser University demonstrated that it is possible to build a energy efficient home in snowy regions. Their house, a magnificent glass cube, loft-type structure, produces double the amount of power it needs. [A Web app demo displays the usage/cost.]
But most impressive aspect of the Solar Decathlon are the students, among them, Preet Anand, engineering and physics major at Santa Clara University and the water systems and digital communications lead on the project, and Lauren Barhydt, the Canadian team's program manager, and a graduate student in architecture at the University of Waterloo. Both took the time to explain the features of their work.
The enthusiasm and optimism of these students about our potential to solve one of our greatest problems is infectious and renewing. If you visit the Solar Decathlon, which runs through Saturday, you may be rewarded with a really good feeling about our shared prospects and a new "must have" item for your list.
Note: The winner will be decided Friday and I'll be updating via Twitter @dcgov