If you are looking for weaknesses in the Apple iPhone, no bigger hole in the armor exists than its carrier, the nation's worst, AT&T. Now Google is going where the Palm Pre isn't: Verizon. Verizon is going where AT&T won't go: open*.
First of all, the back story. Up until a year ago, Verizon and Google weren't the best of friends. There was that little issue over the 700MHz spectrum that brought nasty letters to the FCC from Google and some legal wrangling by Verizon.
What a difference a year makes. The two giants have apparently found some middle ground -- plenty of it, in fact. Today, they had a press conference where they've announced that in the coming weeks there will be two new Verizon Android handsets. "Game changers" is the term that Eric Schmidt actually used.
This partnership has "iPhone" written all over it. Google wants to differentiate the Android handsets from the iPhone and, to a lesser extent, Blackberry and Pre. They aren't going to make much headway on Tmobile or Sprint which have smaller networks and fewer 3G towers than even AT&T, even if their services is much better. With Verizon, there is a clear (har) difference.
And Verizon needs a phone that interests people. Their current lineup is lackluster at best.
In fact the battle against Apple has already begun. Check out this incredibly good commercial by Verizon that pokes fun at Apple's "App for that" campaign while pointing out how bad AT&T's network is:
One of the Android devices looks to be the Motorola Sholes (or Tao, or Droid). This is Motorola's best effort to date, with slide out QWERTY keyboard and big screen and front-facing camera. According to some forum posters, it runs Android 2.0 and will run Youtube videos in HD.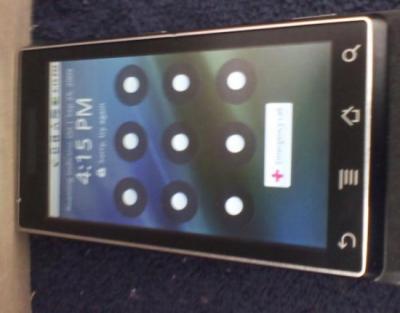 Will this be the iPhone killer?
No.
But people like me who can't get an AT&T signal at home and work in New York City - where iPhone service cuts out about 30% of the time - this has me intrigued.
And that's the rub: having a cool phone on a solid network is a "game-changer" in itself.
Update: It looks like Android phone #2 on Verizon is going to be the HTC Hero if this picture has anything to do with it: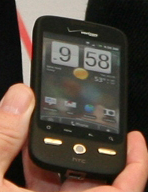 *On open-ness, Verizon has a two tier plan. Open is expensive. The old way is cheaper.
"Door No. 1, in the rules as written, you can bring your own device and it's open and you can get on the network," [Verizon's Vice President for Public Policy Tomas]Tauke explained. "Door No. 2 is for the customer who wants the kind of contract they have with Verizon today, where we provide the device and we guarantee the service quality and so on."