The new Mac browsing speed champ: Opera?!
Opera today released its 10.50 beta browser for the Mac. As soon as I started using it, I noticed that it was the fastest browser I've ever tried. But was it a figment of my imagination or was Opera really faster than Webkit engines such as Safari and Chrome?
To test I used Webkit's own JavaScript benchmarking application, Sunspider (0.9). I restarted my MacBook Pro 13-inch 2.26GHz with 4GB of RAM and opened up Opera 10.5B. It blew through the tests and got a final score of 457.2ms. I tested it two more times and got an average of 455ms.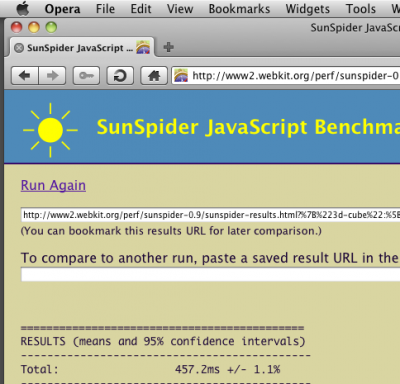 Next, I closed Opera and opened Safari. I ran the same Sunspider .9 test and got 491.8ms. After two more tests, the average was 494ms.
Opera was about 40ms or amost 10% faster than the most recent version of Safari.
But hold on here. Opera is currently in Beta. Shouldn't I then use the latest nightly build of Webkit to test against Opera? I did and (not sure if there is something wrong with recent Webkits) but I got 800ms on my first test and an average only slightly better. That's about half of the score Opera got.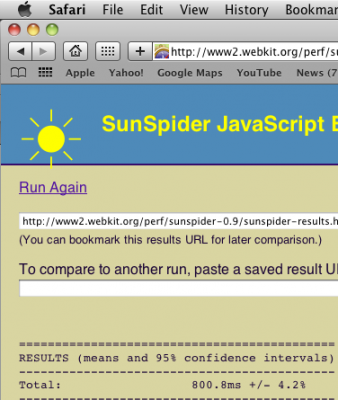 OK, well mybe Google's implementation of Webkit would have a better chance against Opera? Nope...but closer 466.4 with an average of 468.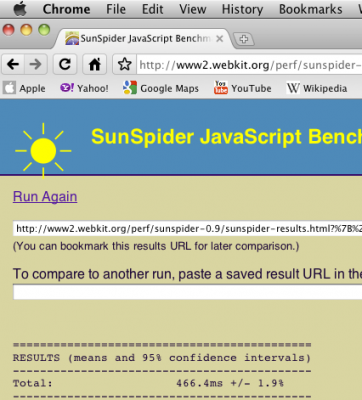 Opera just smoked all Mac Webkit browsers on Apple's Mac Platform.
How?
It uses the same technology that it uses on the Windows platfrom:
Opera 10.5 features a new JavaScript rendering engine, dubbed Carakan, and boasts a new vector graphics library called Vega that handles all graphics rendering in the browser. Opera claims that Vega renders graphics about three times faster than the library utilized by Opera 10.10, the company's current production browser.
You can see from Gregg Keizer's graphic that Opera 10.50 is a vast improvement over previous versions of its software on Windows as well.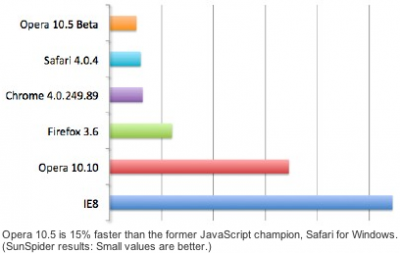 Other improvements include:
Stabilization Improvements: You will find that this build is much more stable than the pre-alpha build.
More polished user interface: The whole UI is more polished now. We're still not done yet, and expect more polishes and improvements in the builds to come
Opera Unite: Opera Unite now works with this release. You can browse through and download unite apps through the Unite Apps Repository.

HTML5 <video>: This beta now supports the html5 <video> tag.

Widgets as stand alone apps: We've already talked about widgets as standalone apps, but this functionality was till now, only available in windows builds. Now even in this build of 10.50 beta for mac, you can use widgets as standalone apps.
New Developer Tools Menu: You can go to 'View->Developer Tools' Menu to access common and usefull tools for developers, such as Opera Dragonfly, cache information, the error console, the source code of the page, and more.
You can download the Opera 10.5Beta here.
Shop Tech Products at Amazon