The other day, Novell's Mono Project, announced the beta release of Moonlight 2. In theory, this enables Linux users to watch Microsoft Silverlight-encoded content. Of course, that raises the question: "What Silverlight content?"
Moonlight 2 beta sounds great. Novell states that it's the equivalent of Microsoft Silverlight 2 and that it "gives users a platform to view and use Silverlight and Windows Media content on Linux."
Specifically, Novell claims that "The Moonlight 2 beta offers Linux users improved functionality compared to Moonlight 1, including support for adaptive streaming of video and audio playback. This feature allows for better streaming of multimedia content based on the quality of the user's connections."
Better? I don't think so. It failed for me much more often than not.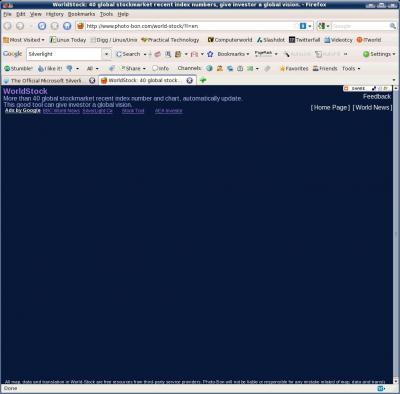 They also state that "Moonlight 2 also embeds Mono runtime functionality, which is 300 times faster than the latest JavaScript engine, and gives users increased performance. With the inclusion of the Mono runtime functionality, developers can now target Linux with rich Internet applications using a wide variety of programming languages, including C#, Ruby and Python as well as JavaScript."
That's not as big a deal as they make it sound. JavaScript is used primarily for Web-based applications, while what they're talking about is .NET applications, which live almost entirely on corporate intranets and extranets. So, yes, this is interesting if you're a .NET programmer looking to build on Linux, or vice-versa, for your corporate applications, but most people won't be seeing these programs.
What most people will be interested in is that Moonlight not only brings Silverlight content to Linux, it also brings Microsoft's WMV (Windows Media Video), WMA (Windows Media Audio) and MP3 files to Linux via the Microsoft Media Pack. This is a Microsoft-provided set of proprietary media codecs.
You can run Moonlight on SLED (SUSE Linux Enterprise Desktop) 11, the latest versions of openSUSE, Fedora and Ubuntu on 32-bit architectures and SLED and openSUSE on 64-bit chips. For my tests, I used it on MEPIS 8, which is based on Debian, and SLED 11.
On the plus side, I found that it really does run .NET code quite quickly. Unfortunately, while Mono Moonlight 2 is busy catching up with Silverlight 2, Microsoft is moving on to Silverlight 3. That's Mono's real and eternal problem: it's always playing catch-up to Microsoft and Microsoft will never, ever let it catch up.
But for what most of you will want to do — watch Windows media in Linux — Moonlight doesn't do much for you, either. There is an open-source program, Moonshine, which lets you watch any Windows media. Moonshine worked great with Moonlight 1.0, but the current version blows up and takes down all your Web browser windows at the same time if you try to use it with Moonshine 2. Yuck! I'd really like to see Moonshine be revised to work with the new Moonlight.
That's largely because they're not a darn thing worth watching or playing that uses Moonlight/Silverlight. Go ahead visit the Silverlight site; let me know when you find something compelling. I didn't.
I also had trouble finding Silverlight applications that would work. Nine out of ten failed. That, by the way, was only a little better than the eight out of ten that failed using native Silverlight on Windows 7 RTM.
The bottom line is that if you want rich media on Linux, Windows, or Mac OS X, you really want Adobe Flash. It's available on all these platforms, it works well on all of them, and, oh yes, there's already millions of interesting videos, applications and games available in Flash. Silverlight and Moonlight simply aren't in the contest.