I'm not much of one for affinity credit cards. You know, the ones bearing the logo of your favorite sports team, school, or what have you. But, I have to confess I like this new affinity Visa Platinum credit card that's being issued by the Linux Foundation, the nonprofit organization dedicated to accelerating the growth of Linux.
As Jim Zemlin, executive director at the Linux Foundation, said in the card's announcement, "This credit card is in response to requests by individuals who want to get involved and support the Linux Foundation's community activities. Some people write code while others work on marketing or defending Linux. The Linux-branded credit card is an easy way for anyone to contribute to the growth of Linux and identify themselves as supporters of the community by carrying Tux in their pocket."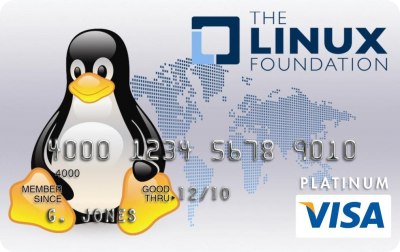 Well, I do a bit for Linux, by writing about Linux, both when it gets things right and when it gets things wrong, but I'm amused by the idea that anyone can help Linux by spending money. After all, we all do that!
According to the Foundation's press release, here's how it works: "The Linux Foundation is partnering with CardPartner Inc. to offer the affinity Linux credit card through UMB Bank. The Linux Foundation will receive $50 for every activated card as well as a percentage of every purchase made with the credit card. All funds from the Visa card program will go directly towards providing community technical events and travel grants for open source community members in order to accelerate Linux innovation."
CardPartner specializes in working with smaller non-profits. In addition, to the $50 up-front to the Foundation for the activated Visa cards, the Linux Foundation will get at least 0.3% from every purchase you make with the card.
For card owners, you'll also get a nice, albeit nothing exceptional, set of benefits that include: No annual fee 0% APR on purchases and balance transfers for the first six months and purchase protection. For more information on the program visit the Foundation's Linux credit card page.
At first, the Linux Foundation Visa Platinum card is only available to U.S. residents but will expand in the coming months. To apply, just click here. At this time, there are no plans for issuing other Linux Foundations cards such as an ordinary or gold Linux Foundation card. So, without excellent credit, you may not want to apply for this card.
What the Foundation gets out of it, besides a rather clever way of letting people everywhere meet Tux, is funding for its many projects. Since the Foundation does a lot with a little, I think any serious Linux supporter should consider getting the card.