Well, we didn't have to wait long into 2010 to find that Google's Chrome Browser would surpass Apple's Safari.  Today, NetApplications released the news that Chrome gained .7 of a percentage point to get to 4.63% of the browser market.  The largest month over month gain in Chrome's history was attributed to the release of beta versions for both Mac and Linux (which isn't supported by Safari) in December. Apple's Mac platform was flat at an insignificant .15% loss overall in share.
It wasn't entirely bad news for Apple and Safari, however.  Desktop Safari did gain .1 percent marketshare while iPhone Safari gained 20% over the previous month (.36% in November to .44% in December).
Add to that Chrome and Safari aren't exactly 'competitors'.  They are actually both based on Apple's Open Source Webkit rendering engine.  One could argue that success of one benefits the other because more web developers will build Webkit optimized code into their web pages as marketshare of the whole increases.  Also, both Apple and Google contribute to Webkit's Open Source code.
The big loser in this month's browser war is Microsoft's IE, which lost another percentage point overall, bringing them down to  62.7%.  Computerworld now predicts that, if current trends continue, Microsoft will have under half of the browser market by mid-year. That is significant for all of those holdover sites (mostly corporate Intranets built with ActiveX) that still only work properly on IE.
Google isn't sitting still on its impressive gains either.  Today, they released an extension button only for their Chrome browser (and only on Windows at the moment) that gives you the ability to go to similar pages right from the browser.  The Beta extension, available here, duplicates the capability of the "Similar Pages" results in Google Search results.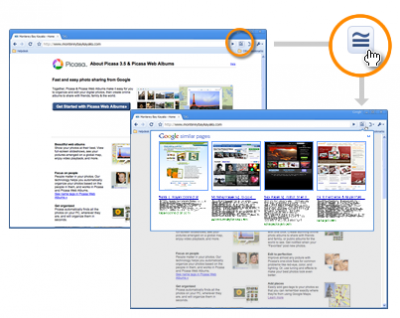 When the button is pushed, an overlay window opens with a big splashy selection of what Google considers similar pages (which no doubt will be monetized with Adsense in the near future.)
As Google grows in influence in the browser market,  it will be interesting to see how many products it releases only for its own browser, not for all browsers, which it has tried to do in the past.