MG Siegler who often covers Apple for TechCrunch is having a bad AT&T week. Welcome to the club. You'll see why I say that in a minute.
He contends that AT&T's ability to stream visual voice messages stopped working two weeks ago for some people (was this because of a tethering/MMS hack?). Instead of informing people, AT&T just tried to bury the news. Obviously a lot of people missed important meetings and information because messages went unheard.
They say customers can always check their messages the old fashioned way, by calling their AT&T voicemail. Yes, very helpful AT&T. The problem (and this has killed me while travelling in Europe) is that AT&T sends the visual voicemails as files to the iPhone over the 3G network. However, it won't send these voicemail files over Wifi (to get more roaming data revenue or force the user to call using roaming).
In this case, the 3G data path apparently shut down. If AT&T delivered the voicemails over any data stream like email, everyone would have their voicemail.
Siegler is just the latest in the series of technology bloggers and journalists complaining about AT&T. For the record, I've been hating on AT&T longer than anyone. As Siegler points out, Om Malik, who runs the GigaOM network, gave up his iPhone just a few months ago, not because he didn't love the iPhone, but because AT&T's network wasn't good enough to use.
AT&T's network just wasn't cutting it for me. I even tried using a BlackBerry, but the network issues never quite went away. Then over the past few days, my iPhone was spending ungodly stretches of time "searching" for the network, the download speeds of web pages slowed down, and email — well that's a whole other story. The static, the dropped calls and above all the shoddy call quality were enough to raise my blood pressure. And given my medical history, that's not a good thing. The only feature that worked flawlessly: SMS.

I love my iPhone — but AT&T's network has failed me. Apparently I'm not alone. If you follow me on Twitter, then you know how often I complain about it; my complaints always result in me receiving similar messages of frustration from other iPhone users. A status update on my Facebook page on the topic unleashed a flood of messages from people expressing abhorrence of AT&T's service.
But Siegler and Malik aren't alone. The editor of Gizmodo, Brian Lam, Tweets about his AT&T experiences: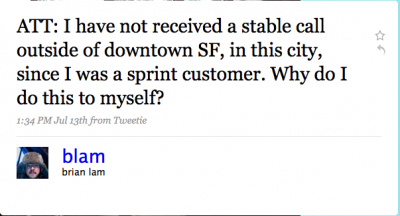 He offers a solution: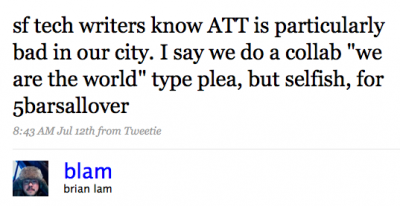 Rob Beschizza of BoingBoing Gadgets says:
AT&T seems simply unable to deal with the iPhone on its network: its 3G is slower in real-world tests than Sprint and Verizon's "2.75G" Evdo Rev. A network, and that's when 3G works at all. For consumers, it's an inconvenience; for business, it's a big red banner over the iPhone saying "Do Not Buy This."
Brian X. Chen from Wired has nothing but bad things to say about AT&T and their repeated mishandling of iPhone activations on launch (for the third consecutive year).
As if the aforementioned hiccups weren't enough, some new iPhone 3GS owners were left phoneless over the weekend due to the network's failure to activate their phones. Apple apologized to affected customers in an e-mail and issued $30 iTunes credit.
Dan "Fake Steve Jobs" Lyons chimes in:
How many things in your life work as well as your Macintosh, or your iPod, or your iPhone? (Allowing for the fact that AT&T's cell network stinks.)
Engadget' editor, Joshua Topolsky, has many unkind words for AT&T's service as well in his iPhone 3GS review:
AT&T, on the other hand, isn't exactly acting like the top-tier carrier it's supposed to be, and its service can sometimes be maddeningly poor.
He also goes on to rip on AT&T for not having services that the iPhone's other carriers already have running Things like tethering, MMS, 7.2Mbts 3G. AT&T is supposedly working on these issues and will have fixes available "soon".
The problems with AT&T seem to be focused around the tech-heavy and densely-populated San Francisco and New York City areas. It is also where many bloggers and journalists call home, so this might be a perfect storm for AT&T's bad press.
Regardless, people in big cities should expect to get similar mobile service to those who live in less populated areas.
It isn't just AT&T's customers who don't seem to like the firm. AT&T's employees give it one of the lowest approval ratings in the technology sector, for both the company and its CEO, Randall L. Stephenson.
For the record, I've recently moved from New York City to a nearby suburb. I used to get dropped calls around 50% of the time in the city. At my new home, I can't even pick up a signal. It isn't just my home, though. The whole town is a dead zone for AT&T customers. This is a suburb of New York, 30 minutes outside of the city, not Area 51. AT&T is supposed to have "moderate" coverage here. The map below is a big fat lie.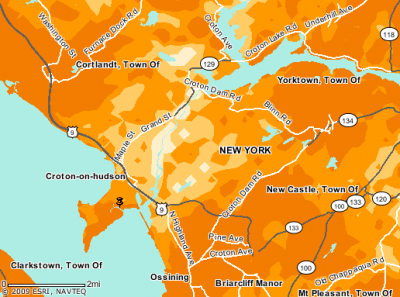 So the question really is: How bad can AT&T get before Apple does something about it? Is there another US network out there that can step up if Apple wants to move or are they all pretty poor? This AT&T customer is hoping something is already in the works.