There was an overwhelming amount of information to process at the recent Microsoft SharePoint Conference 2014 in Las Vegas. This conference continued the themes of the last SharePoint Conference in 2012: cloud, mobile, and social. But at this conference, and for the first time, Microsoft did not just show solutions and features that were ready for prime time. Instead, we caught a glimpse of the future - and not just the future of SharePoint - but the related technology advances that have the potential to transform the way we work.
After an initial keynote by Bill Clinton, Jeff Teper, Corporate Vice President of Office, talked about four fundamental principles:
Future of work is all about working like a network
Personalized and proactive insights
Power of an open development platform and a robust ecosystem
Future of work is only possible when people can do their work in any place on any device and business can assure compliance.
Microsoft is using the term "work like a network" to describe the goal for the new way of working - but there is nothing future or new about this concept. Way back in the dinosaur ages of the mid-nineties, my Knowledge Management colleagues and I were focused on delivering the value of the "extended enterprise" - the network of employees, partners, suppliers, and customers connected in communities that advance all of the participants to become what we called "next generation enterprises."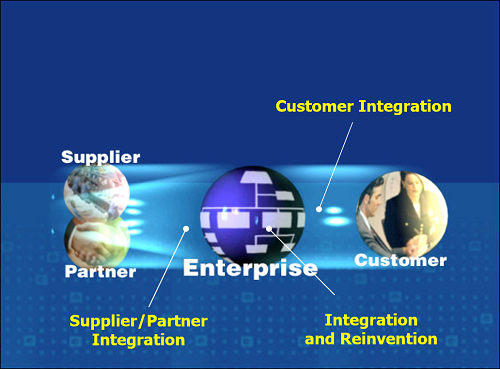 Next Generation Enterprise concept from the "dark ages" in the mid-nineties.
While I was sitting with friend and Yammer co-founder Adam Pisoni's excellent presentation, "A responsive organization stays ahead of the competition," I opened up a presentation I gave at a conference in 2000 where I shared and demonstrated very similar messages. So the message from Microsoft is not exactly new. What is new, of course, is that the cloud-based versions of the tools we spend most of our time in at work - Microsoft Office and email - have the opportunity to provide incredible new insights, which is what I am most excited about when it comes the Office Graph and Oslo.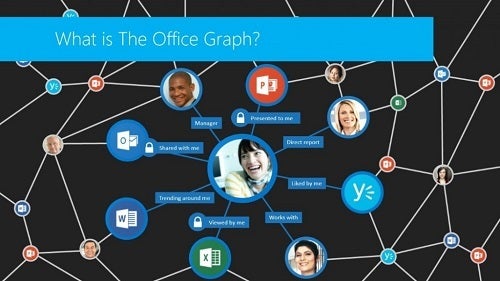 The Office Graph maps the relationships among people and information (from Jared Spataro's blog post on 3/3/14),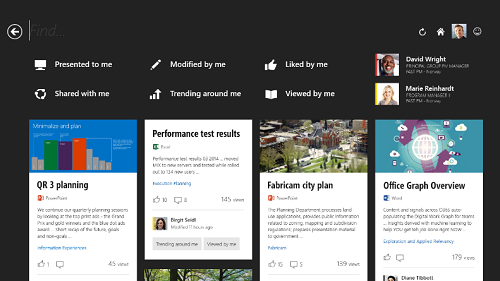 Oslo is the code name for a brand new app that is designed to surface insights from the Office Graph.
These emerging technologies, plus the new Groups capability introduced by Julia White (General Manager, Office 365 Technical Product Management) in her keynote allows us to continue to work in what I call our "comfort zone" (Office and Outlook) and have real time insights from our colleagues delivered to us without our even having to work very hard to find them. Bring the collaborative activities and insights that Yammer supports to email and bring email to Yammer with an integrated experience where you want to work and you can start to see how, unlike 20 years ago when we first realized the importance of "working like a network," we are now on the cusp of having the tools to really enable that in a very seamless and comfortable way. We now have technology that can help deliver the type of tacit and explicit knowledge and insights that have become the holy grail of KM. Technology alone won't deliver the goods, but cloud-based technology combined with people and process and security assurances to make our compliance officers happy, is going to transform the nature of work and our ability to "work like a network."
Why is the cloud so important to the new way of working? From my perspective (and remember, I'm a business analyst, not a technology wizard), the cloud is critical for two reasons: 1) speed and 2) scale.
First, what we get from the cloud is speed and agility. In traditional on-premises software maintenance, fixes and updates are accumulated until they are packaged up in a release. Software administrators typically then spend time evaluating the impact of those releases on all of the customizations that developers have made to adapt the baseline software to their environment. This process takes a lot of time - and so a "bug" that a user finds today might not get fixed in her environment for many months. In the cloud, software fixes and updates are not dependent on our IT department and their workload - and so new features and fixes to things that are broken can happen on much more rapid schedule. And if something breaks because we are moving so quickly, it can be fixed and delivered to everyone instantaneously. I do think that speed has to be balanced with our own ability to adapt to change - because users don't like to find that things they are used to working in a certain way may be different tomorrow - and the day after that. Balancing speed, agility, and user experience will be something that Microsoft will need to learn to manage.
Second, the cloud provides the opportunity for incredible insights from the aggregated experiences of everyone using the technology - at the scale of the internet - the "personal and proactive insights" that Jeff talked about in his keynote. Yep, that might sound a little bit scary if you think you are giving up some privacy. I think the answer to this is quite simply, "Get over it." Individual data security and privacy is critically important - and our cloud vendors need to be able to prove that they are protecting business critical information. But your data could be just as or even more vulnerable in your on-premise deployment. The cloud allows us to gain insights at a scale that gives us a much better way to learn and to know what works and what doesn't - and then do something about it! Scale allows us to rapidly adapt based on new information about what delivers value - to speed the process of evolution so that the best approach survives.
The concept of working like a network in the cloud would likely not be possible if Microsoft had not also made a fundamental change that was all too evident at SPC14: openness and transparency. SPC14 is the first conference where Microsoft has ever widely showcased technology futures - solutions that are not fully baked and won't be available for general release until as much as 6 months or more into the future. Hands down, one of my favorite experiences at SPC14 was listening to Jared Spataro's extremely open "chalk talk" session on working like a network. Jared is the General Manager of Enterprise Social at Microsoft. He shared that the technology that was showcased at the conference - such as the Office Graph and Project Oslo - are not yet fully "baked." Several Microsoft executives with whom I spoke used the phrase "we don't know" or "we are waiting to see how people react" and "experiment." I think that if Microsoft wants these emerging technologies to be successful, it will be absolutely critical to continue to be transparent. I have a feeling that some of the approaches that have been adopted as a result of the Yammer acquisition will find their way to more of a happy medium - perhaps less rapid and fewer experiments as the SharePoint team learns how to respond to the needs of the network that they serve. But again, without the insights and scale gained from the cloud, this just won't be possible. In an effort to understand just how serious Microsoft is about the cloud, Jared's response to a question about when the capabilities of the Office Graph and Project Oslo would be available on premises, his answer, and perhaps my favorite quote from the entire conference, was quite simply, "Absolutely not." Jared was not trying to be flip or provocative. He was candidly and transparently admitting that it would be virtually possible to offer this type of emerging technology in a meaningful way if the solution had to be delivered in a traditional software package approach.
So let me come back to the "what's old is new" concept of working like a network or the "extended enterprise." My favorite part about collaboration technologies is that they put people at the center of everything. A clear message from SPC14 is "Go Yammer or go home!" Microsoft made a big bet on Yammer and one thing is crystal clear about Yammer - it's all about people. (Notice that I'm trying not to use the term social because I think that the "s-word" has a lot of baggage and may not resonate with all the stodgy dinosaurs in some of our old-school organizations.) Yammer is about community and collaboration in the context of getting work done, not watching cat videos. At the center of community and collaboration is people, the same people we've been talking about for the last 20 years in the KM space. We know that people can be enabled by technology, but they are driven by culture - which is why you can't just throw collaboration technology at the enterprise and expect it to work if your culture does not recognize and reward collaboration. This was an important message from another favorite presentation at SPC14, Melanie Hohertz's phenomenal presentation about real-world successes and challenges deploying and getting value with Yammer (and the "s-word") at Cargill. Melanie alluded to something that I talked about in my own presentation, that collaborative behavior is not necessarily a natural part of every organization and that it is important to enlist what she says is "not a village but a universe" of evangelists to help keep the focus on working like a network. Research has shown that it takes, on average, 66 days to create a new habit. Melanie talked about creating new habits and using her network of community managers to help reinforce that message.
To sum it up, I will share the quote that was ringing in my head the entire time I was at SPC14 - it was evident in the four principles that Jeff talked about in his keynote, it was echoed in each presentation made by Microsoft executives in the Strategy and Social tracks, and it was particularly important in the executive round table knowledge exchanges. This quote is from biologist Lynn Margulis and I think it speaks directly to the future of work that was presented at SPC14: "Life did not take over the globe by combat, but by networking." The future of work is in the cloud, it's open and transparent, it's when and where we need to get work done on any device, and it's all about people and the network.